Fennel Roast Chicken Recipe with Smoked Paprika Couscous
Try Angela Casley's tasty roast chicken salad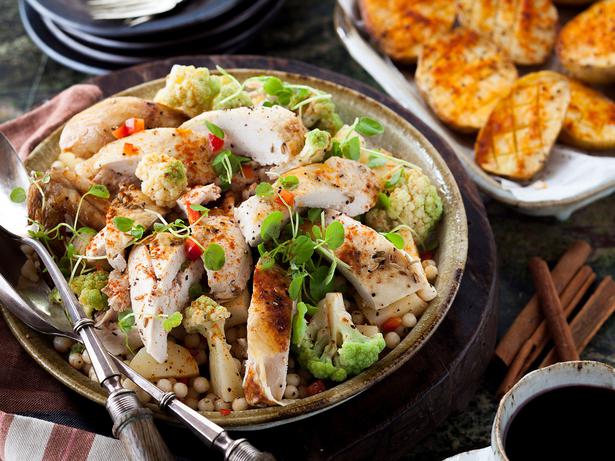 Friday May 13, 2016
FENNEL ROAST CHICKEN RECIPE WITH SMOKED PAPRIKA COUSCOUS
Serves 4
• 1 free range chicken
• 1 Tbsp olive oil
• 1 Tsp fennel seeds
• 1 tsp oregano
• Salt and freshly ground pepper
• 1 cup chicken stock or water
• 1 parsnip, peeled and chopped small
• ½ cauliflower, cut into florets
• ½ red pepper, chopped small
• 2 cups cooked Israeli couscous
To serve
• 4 medium potatoes, halved lengthways
• 1 Tbsp olive oil
• 1 tsp paprika
• Sea salt to sprinkle
• ½ cup micro parsley or coriander
Dressing
• ¼ cup olive oil
• juice of ½ lemon
• 1 Tbsp white wine vinegar
• 1 tsp smoked paprika
• 1 Tbsp brown sugar
1. Preheat oven to 180C. Line a roasting dish with paper.
2. Place chicken in roasting dish and rub with oil. Sprinkle over fennel seeds, oregano, salt and freshly ground pepper. Pour stock into base of the oven dish, cover and roast for 1 hour. Remove cover and continue to cook for 45 minutes or until cooked through. Remove and set aside.
3. Rub potatoes with oil, salt and smoked paprika. Place in a second baking dish and bake for the last 45 minutes, or until soft and golden.
4. To make the dressing, combine all ingredients in a jar and shake well.
5. Bring a pot of salted water to the boil. Cook the parsnip for 8 minutes. Add the cauliflower and cook for 4 minutes to soften. Drain into a large bowl. Add the red pepper, couscous and dressing and toss through.
6. Place warm couscous salad on a platter. Chop chicken into small pieces and place on top. Sprinkle with parsley or coriander. Serve with hot potatoes.
Share this:
More Food & Drink / Recipes