Fennel, Thyme and Blue Cheese Mini Quiches Recipe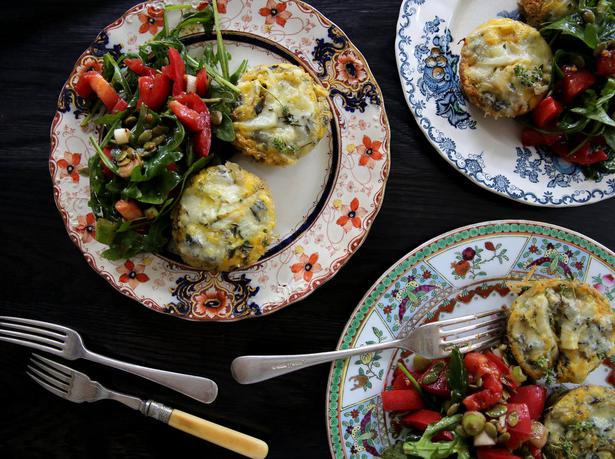 Thursday Dec. 12, 2013
For lunch yesterday, I made these divine little fennel, thyme and blue cheese quiches. I love the subtle and fresh aniseed flavour of the fennel and the subtle earthiness of the thyme, which is heavenly when paired with the sharpness of the creamy gorgonzola cheese.
If you are not a fan of blue cheese, you could always use feta, which also tastes wonderful. What I love the most about these mini quiches is that they are so simple to prepare yet are still a little fancy - wonderful to make if you have guests coming around for Sunday lunch. 
FENNEL, THYME AND BLUE CHEESE MINI QUICHES
Makes 6 mini quiches 
6 free range eggs, lightly whisked
1 bulb of fennel, very finely sliced
A bunch of spring onions
A handful of fresh thyme, roughly chopped
50g gorgonzola cheese, broken into pieces
Sea salt
Pepper 
1. Preheat the oven to 180C, and grease 6 muffin tins with butter or olive oil.
2. In a large bowl, add the eggs, fennel, spring onions, thyme, and a pinch of sea salt and ground pepper. Mix well and divide between muffin tins.
3. Top with the cheese, and then place in the oven to bake.
4. Bake for 20-25 minutes or until cooked through and lightly golden on top.
5. Leave to cool slightly before serving.
 
*gluten free
*vegetarian
*dairy free (without the cheese)
Share this:
More Food & Drink / Lunch