Fennel Upside-Down Tart Recipe
This impressive upside-down tart is actually super-simple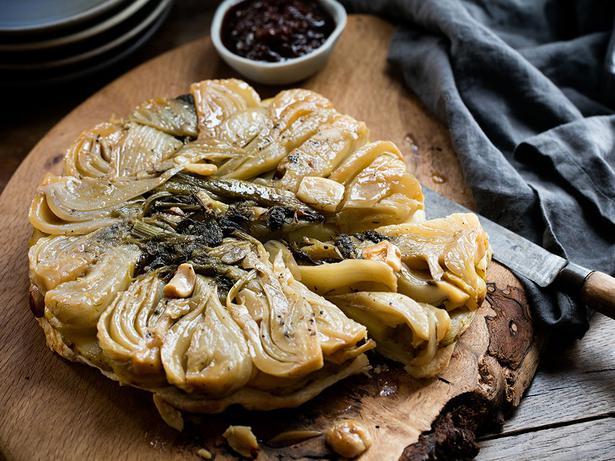 Friday June 24, 2016
Sourcing products at the market direct from the growers is satisfying. During my last visit I found fennel, with its luscious green fronds, piled high and smelling fresh and inviting. This was the perfect inspiration for today's upside-down tart. It's super-simple, and the potatoes add a delicious creamy flavour. Serve warm with a favourite pickle and salad for a tasty lunch.

FENNEL UPSIDE-DOWN TART RECIPE
Serves 6
Pastry
1 ½ cups plain flour
120g butter, cubed
½ tsp salt
1 egg
2 Tbsp water
2 Tbsp olive oil
3 heads fennel, sliced in half lengthways
6 cloves garlic
Salt and freshly ground pepper
40g butter
2 Tbsp brown sugar
3 medium-sized potatoes, cooked and sliced
100g goat's feta, crumbled
1. Preheat an oven to 180C. Line the base of a 22cm cake tin with baking paper and grease well.
2. Make the pastry. Rub together the butter and flour in a bowl until it resembles crumbs. Add salt, and egg, followed by water and mix to a dough — using fingertips will get a great result. Chill for 20 minutes.
3. Slice the fennel halves into three or four lengths, keeping them intact at the thin end. Place on a baking tray with the garlic cloves, drizzle in oil and bake for 10 minutes until starting to soften. They will cook further in the pan.
4. Melt the butter and sugar in a frying pan. Add garlic cloves and fennel and cook for 10 minutes on a low heat until they are starting to caramelise. Season with salt and pepper. Remove, and lay them in the base of the tin, fatter ends to the outside, and dot the garlic around. Completely cover the base and don't leave any bits behind in the pan.
5. Lie the potato slices over the fennel. Sprinkle over the goat's feta.
6. Roll the pastry on a lightly floured board into a circle large enough to fit the tin with a little extra to tuck under. Place on top of the feta and fold in the sides.
7. Bake for 35 minutes until the pastry is crisp and golden. Allow to sit for 10 minutes before upturning on to a plate to serve.
Share this:
More Food & Drink / Recipes