SPONSORED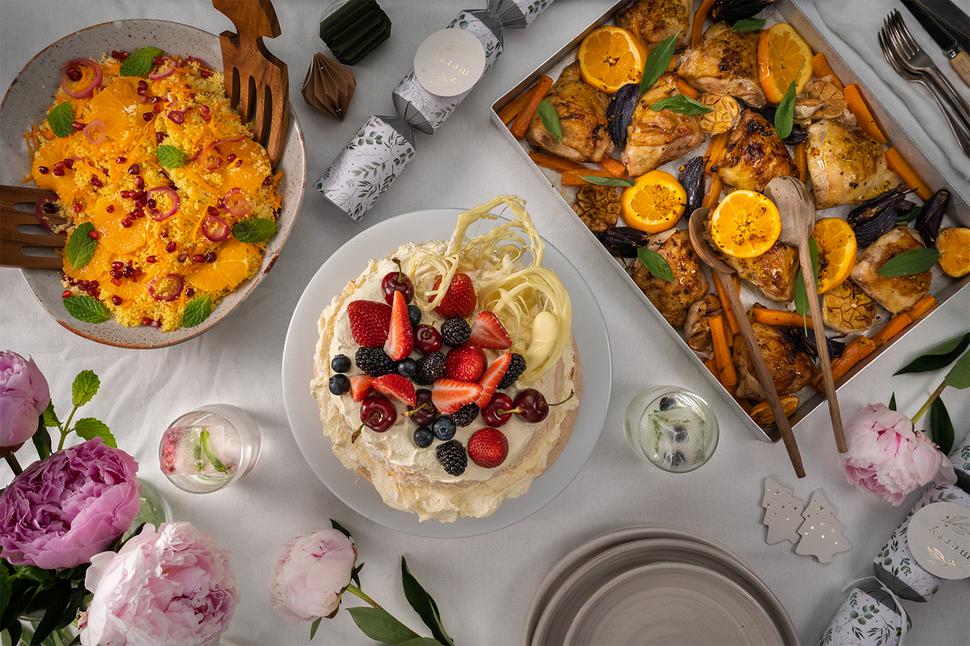 Festive Classics To Try This Summer
Try your hand at some of Pams' menus to create a distinctly local feast these holidays
Thursday Dec. 10, 2020
For those wanting a distinctly local feast these holidays, consider Pams Christmas Menus for your festivities — these three easy recipes celebrate some classic New Zealand dishes, and you can download the shopping list online to make preparations even more breezy.
FESTIVE COUSCOUS SALAD
A vibrant and flavoursome salad with all the Christmas colours, this is the perfect side for a burst of freshness. 
Prep time: 10 minutes
Cook time: 5 minutes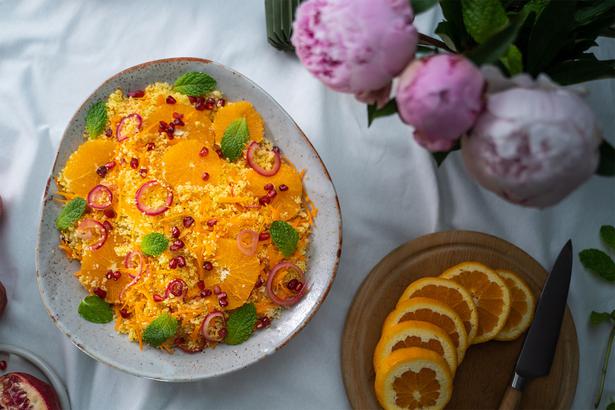 Ingredients
1 bag Pams Couscous
4 Tbsp pomegranate seeds
3 Pams Carrots, peeled and grated
1 Pams Red Onion, finely sliced into rings
2 Pams Oranges, sliced into small segments
1 handful mint, roughly torn
Directions
Pour the couscous into a bowl with 2 ½ cups of boiling water, a dash of olive oil and some salt and pepper. Cover with a lid and leave to stand for 5 minutes. Uncover the couscous and fluff it up with a fork. Spread out on a tray to cool. Place the cooled couscous into a large serving bowl, douse generously with olive oil and season well. Mix through the carrot, orange, pomegranate, red onion and mint.
Tips
Add some dried stock powder to the couscous cooking water for extra flavour. Quickly pickle your onions for a burst of colour and extra flavour. Add the sliced red onion to a small pot with some Pams White Vinegar and a few tablespoons of Pams Brown Sugar and simmer for five minutes before stirring through the salad.
CHRISTMAS CHICKEN TRAY BAKE
Turn the classic Kiwi roast chook up a notch this year, with our oh-so-easy festive tray bake! Take your chicken tray bake to the next level by adding a handful of fresh sage leaves before you put it in the oven. 
Prep time: 10 minutes
Cook time: 55 minutes
Makes: 10 servings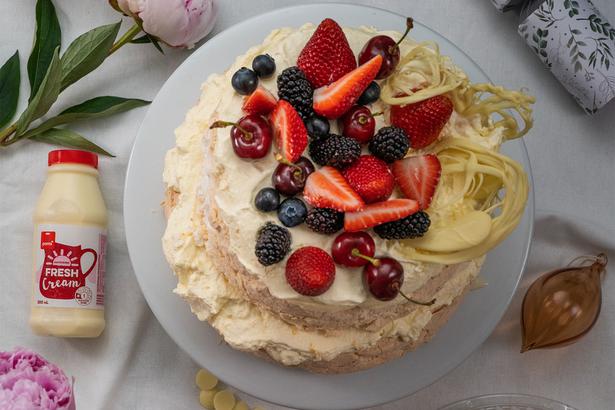 Ingredients
2kg chicken thighs, bone in, skin on
2 Pams Carrots, chopped in batons
2 Pams Red Onions, sliced in thick rounds
2 Pams Oranges, 1 sliced, the other juiced and zested
3 Tbsp Pams Wholegrain Mustard
2 Pams Garlic Bulbs, cut in half
Directions
Season the chicken with salt and pepper. Add a splash of oil or a knob of butter to a pan over medium-high heat and, working in batches, sear the chicken skin-side down until golden. Transfer to a large baking dish. Add the sliced orange to the baking dish along with the carrots and onions. Mix the mustard, a dash of olive oil, the juice and zest from the remaining orange, and a dash of salt and pepper. Pour over the chicken.
Roast in the oven at 180°C for 45 minutes, or until the chicken and vegetables are cooked through and caramelised. Serve the tray bake straight from the roasting dish or transfer to a large serving platter.
Tips:
The liquid left in the baking tray after cooking is a fantastic addition to the stuffing balls, put it aside ready for use in the next recipe! 
PAVLOVA AMBROSIA
Two classics mixed into one epic Christmas dessert! Whip this one up in 20 minutes – your family will think it took you all day. 
Prep time: 20 minutes + cooling time
Cook time: None
Makes: 10 servings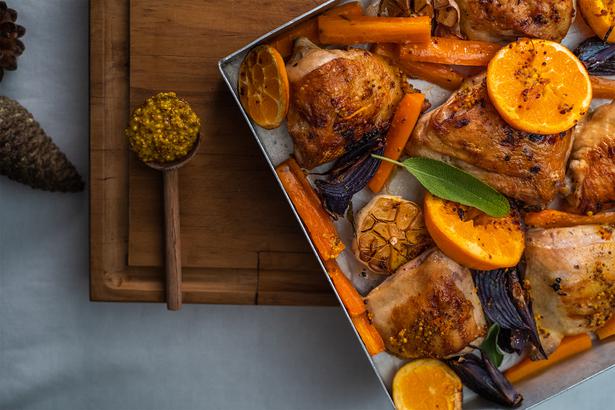 Ingredients
½ packet Pams White Chocolate Buttons
1 large Pams Pavlova
300ml Pams Cream
½ cup plain yoghurt
2 punnets of fresh berries
½ packet Pams Festive Mallows
Directions
Melt the white chocolate in a bowl over a pot of simmering water. Stir frequently until fully melted, then use a spatula to spread it on a lined tray. Allow to cool, then break the chocolate into shards. Whip the cream until stiff peaks form. An electric beater is the easiest way to do this but use whatever you have on hand. Fold the yoghurt through the cream.
Use half of the cream mix to create the ambrosia by mixing through a large handful each of mallows and berries, stirring to combine. Using a spatula, evenly spread the other half of the plain cream and yoghurt mixture onto the top of the pavlova.
Dollop the ambrosia mix into a small pile in the middle of the pavlova. Decorate with the remaining berries and mallows, and your prepared chocolate shards. Chill until ready to serve.
Tips
We've used strawberries and blueberries for our pavlova ambrosia, but feel free to use your favourite Summer fruit! 
Share this: