Fig and Mozzarella Bruschetta Recipe
When roasted, figs become sweet and caramelised like in this mouthwatering recipe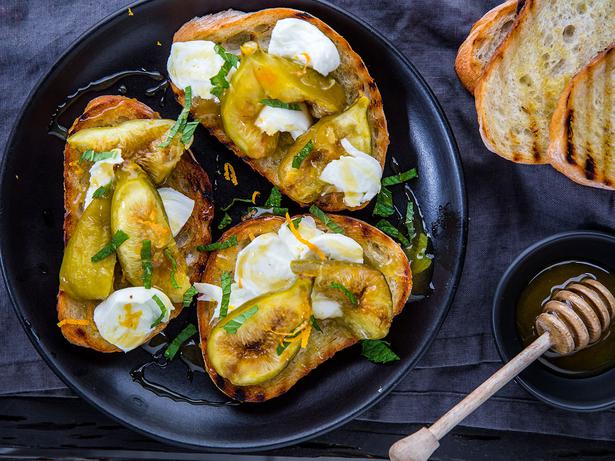 Friday March 24, 2017
Change up your bruschetta toppings with this mozzarella and fig recipe. When roasted, figs become sweet and caramelised and will dissolve in your mouth. A mild cheese, like mozzarella, adds a freshness to the topping, along with the mint. Cooking time for your figs will depend on their ripeness, so they may need a little less or more cooking.
FIG AND MOZARELLA BRUSCHETTA RECIPE
Serves 4-6
10 figs, halved
Zest of 1 orange
½ cup orange juice
¼ cup brown sugar
8 sliced ciabatta
Olive oil for bruchetta
100g mozzarella
¼ cup chopped mint to sprinkle
Honey to drizzle and a sprinkle of salt to serve
1. Preheat an oven to 170C.
2. Place the figs into an oven-proof dish. Sprinkle over the zest, juice and brown sugar. Cover with tinfoil and cook for 10 minutes. Remove the cover for a further 15 minutes until they are completely soft and golden. Remove and cool.
RECIPE: Bruschetta with Avocado and Feta 
3. Brush the ciabatta with olive oil and toast under a grill or on a barbecue.
4. When ready to serve, roughly crush the figs onto the toast with mozzarella and a drizzle of honey and mint. Season with a little salt.
Be inspired by the good things in life. Sign up now to receive emails from Viva, and twice a week you will be sent the latest news, profiles, videos, fashion shoots, competitions and more.
Share this:
More Food & Drink / Recipes