3 Fig Recipes to Try
Both sweet and savoury options make figs the perfect versatile fruit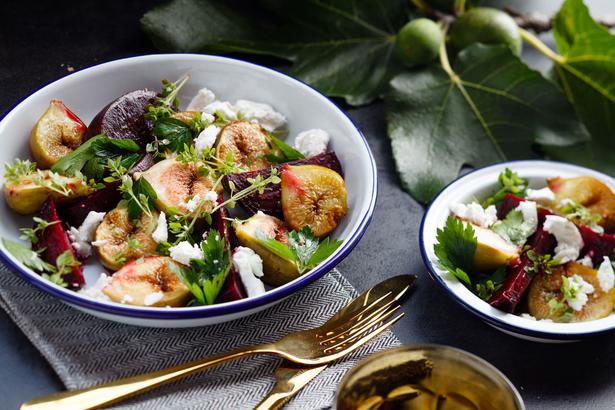 Friday March 11, 2016
The tree is groaning, again. Standing underneath and picking a perfectly ripe fig is one of my greatest pleasures. Even better, picking a basketful and being able to share them with friends on a platter with soft blue cheese or in a tart.
Every year I contemplate chopping our tree down to make more space, then the huge crop arrives and this ancient tree will live on, the figs are just too precious.
When the fruit first starts to appear, it is so small and unappealing and then suddenly they burst in size and are ready to devour. If you have plenty, do not be tempted to pick them too early. For optimum sweetness wait until the base of the fig starts to split. The fruit will be darker, juicy and perfect at this stage.
Picked straight from the tree, baked figs with a dollop of mascarpone are a match made in heaven. The perfect way to satisfy that sweet desire, they are ready in no time. When I make the red wine syrup I like to double the recipe and have some in the fridge ready for a quick, impromptu dessert.
This tarte tatin is an all-time favourite. Not only is it gorgeous to look at but also an absolute taste sensation. Who doesn't like a bit of light, buttery pastry dripping with fig and honey goodness? I like to fold a little lightly stewed fig pulp through the whipped cream to add interest and texture. A dash of liquor never goes amiss either.
Don't forget figs work effectively to bring a touch of sweetness to savoury dishes — whether wrapped in prosciutto, roasted with a chicken or, as here, in a simple salad with beetroot and goat's cheese. Add nuts or use a more subtle cheese if you prefer.

Recipes:
• Baked Figs in Red Wine and Cinnamon
Share this: