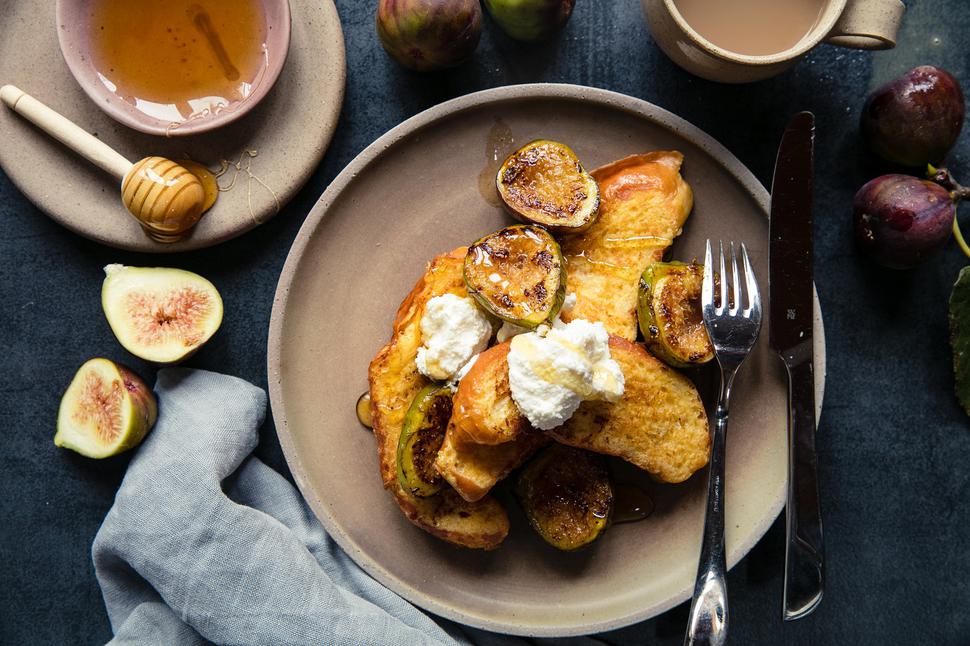 Fig & Ricotta French Toast With Honey
This breakfast is so lush it can easily pass for dessert
Friday April 5, 2019
There is nothing more perfect than picking figs straight from the tree, frying them in a little sugary butter and adding them to some French toast. From tree to plate in a matter of minutes. A dollop of ricotta on top and a good drizzle of your favourite honey is the ideal addition.
FIG & RICOTTA FRENCH TOAST WITH HONEY RECIPE 
Serves 2
Ingredients
2 Tbsp butter
2 Tbsp sugar
6 figs, halved
1 tsp lemon zest
2 eggs, whisked with a fork
½ cup milk
¼ tsp cinnamon
Extra butter for cooking
4-6 slices ciabatta
½ cup ricotta
Honey to drizzle
Method
1. In a frying pan melt the butter with the sugar. Cook the figs for 3 or 4 minutes each side to caramelise and soften, then add lemon zest. Set aside.
2. Combine the eggs, milk and cinnamon in a flat bowl. Heat a little butter in a frying pan until just about frothy. Dip the bread in the milky mixture then fry for 2 minutes and flip, cooking the other side. Continue for the remainder of the bread.
3. Serve warm with the figs, ricotta and a generous drizzle of honey.
Share this: