Fig Salad Recipe with Roasted Beetroot
The figs bring a touch of sweetness to this salad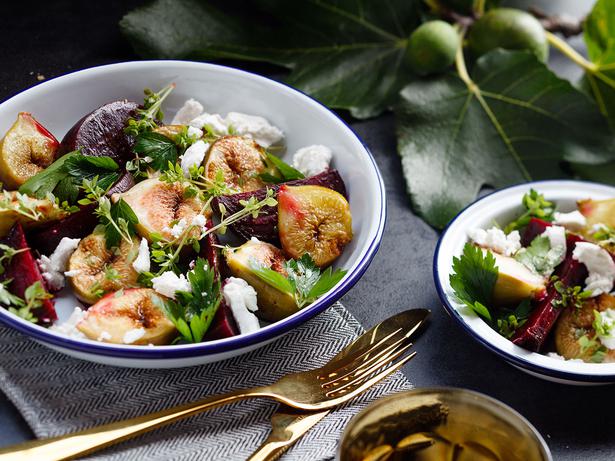 Wednesday Feb. 10, 2016
FIG SALAD RECIPE WITH ROASTED BEETROOT
Serves 4
• 1 large beetroot
• Drizzle of oil for roasting
• 8 figs, halved
• 100g goat's cheese
• 1 cup fresh soft herbs such as parsley, dill, chervil
• Drizzle of balsamic and honey
1. In a medium-sized pot, place the unpeeled beetroot. Cover with water and bring to a simmer. Cook for 15 minutes or until a knife will slip into it easily. Remove and allow to cool enough to handle. Remove the skin and ends, then cut into pieces.
2. On to a large baking tray place the beetroot and rub with oil. Add the figs, salt and freshly ground pepper. Place into the oven for 15 minutes until the figs are soft and beetroot slightly roasted. Remove and cool.
3. Place the beetroot and figs on to a platter. Scatter the goat's cheese, soft herbs and drizzle with balsamic and honey.
Share this:
More Food & Drink / Recipes