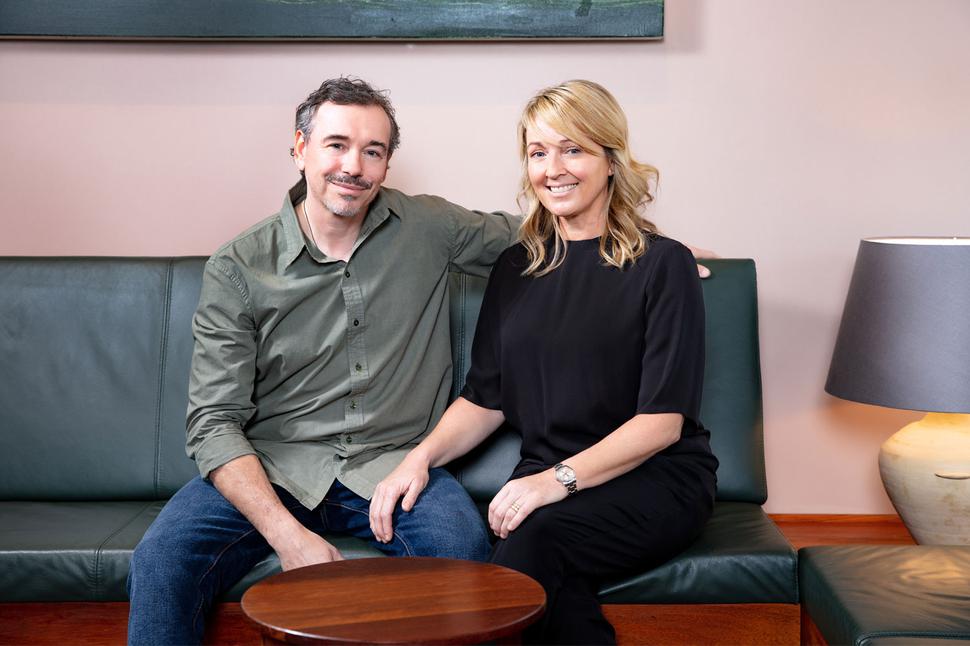 Creghan Molloy & Simon Wright On Their Final Days At The French Cafe
Creghan Molloy and Simon Wright talk to Jesse Mulligan about handing over the keys to The French Cafe after 20 years of unparalleled service
Wednesday Sept. 5, 2018
"That was probably the worst night of my life," says Creghan Molloy, owner of The French Cafe, as she sits at home in her kitchen telling me about the time a customer died during dinner service.
Her restaurant is famously the place where everything is perfect, where every tablecloth and teaspoon have been chosen after careful hours of consideration with her husband, chef and co-owner Simon Wright. When you are Creghan and the restaurant needs new lights you don't just buy new lights. You trial them, over 12 months or more in your own home, before debuting them in the restaurant. "And you realise they're the hardest thing in the world to clean," she laughs.
READ: Taste Of Auckland Turns 10 & Moves To Auckland's Waterfront
The food is perfect (we'll get to that) and the service must be perfect too. Above all, things must be consistent. This is the restaurant where, earlier this year, the kitchen staff continued to cook through an ankle-deep flood, two of them bailing water while the others plated up haute cuisine.
Once, during a busy Christmas service, a young chef knocked over a tub of clarified butter on the oven top and the whole thing went up in flames. They fought the fire for 20 minutes while Simon continued to cook, pausing momentarily to toss a 10-litre bucket of salt over the worst parts of the inferno. Not only did he not miss a single dish that night, but none of the customers noticed anything out of the ordinary. If they'd been listening closely they might have heard the German waiter, who arrived at the kitchen pass and took one look at what was happening, gasp "oh my f***ing God".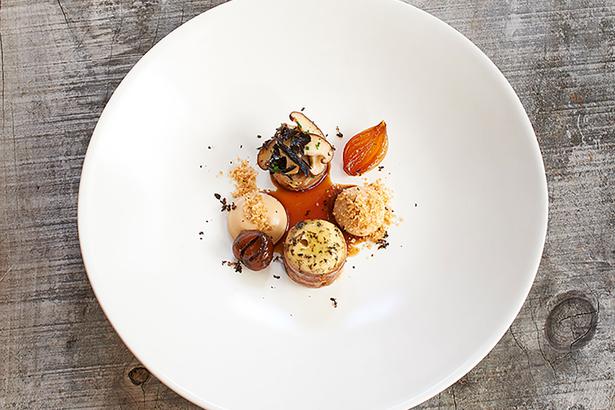 During one busy summer lunch, when a customer retired to the bathroom to freshen-up, had a brain aneurysm and fell to the floor, dying instantly, Creghan and the team moved fast. One staff member watched the door, redirecting customers to the staff bathrooms. An ambulance was called and diverted to the service lane next to the restaurant, and the body was removed as discreetly as possible. It was a shocking event, but nobody dining that night, other than the family, knew it had happened.
Until now. Twenty years after buying the restaurant, Creghan and Simon have sold. They've agreed to one final interview, with Viva, to share the stories, insights and memories from those incredible two decades at the top.
September 1 was set as the date their final dinner service, before moving their young family to the beach. It was a departure on their own terms. Creghan says "we're leaving it while we still love it".
READ: Jonathan Gold Did More Than Critique The L.A Food Scene — He Defined It
The early days were tough — building a following from scratch, working out what their customers wanted from a restaurant, "refining, refining, refining" what they were offering. Money was tight, bookings were patchy, and their idea of a simple bistro, where people would come and dine a couple of times a week, wasn't resonating.
About three years in, their other two investors withdrew from the business and the couple took on full ownership, secured with a mortgage on Creghan's parents' house. The new freedom, fuelled by the feeling that failure was not an option, seemed to work. The couple focused on high-end, special occasion dining. Suddenly business picked up — "it was like someone flicked a switch", she recalls.
Steadily The French Cafe we now know began to emerge and awards followed. International website TripAdvisor named it the fourth best fine-dining restaurant on earth. The wait for tables stretched from days to weeks then to months. They introduced New Zealand's first degustation menu — the option to order a series of small plates chosen by the chef instead of the standard a la carte.
Degustation dining was what all the European masterchefs were doing, but Simon says he could never have done it in Auckland from day one. "When we started out it was meat and three vege, and no alcohol on a Sunday," he remembers. "They weren't ready for Marco Pierre White here 20 years ago."
Simon credits this local conservatism as one of the things that influenced his own style. Though trained by the biggest names in world food, he brought Auckland diners into fine cuisine carefully — avoiding, for example, flourishes like the tiny dots of sauce that might have decorated a plate in his early days in London.
"Do you know what? That really helped me. And now, I quite like the fact that young chefs will come to my kitchen having worked with these famous chefs and they really like my style and understand the philosophy behind it, even though it might look a little more basic. I find the European boys really respond well to that. I still have the depth of flavour and the technique, but they like the more … almost casual approach to the food. It's quite humbling."
READ: Meet The Passionate Personalities Behind Auckland's Artisanal Offerings
Over 20 years he's mentored a lot of these young chefs. He won't pick favourites, but does admit to having had an influence on the local scene. "If you picked the top 10 restaurants in Auckland I reckon you'd find someone in each kitchen who'd started at the French Cafe," he says proudly.
Meanwhile, Creghan was creating her own legacy on the restaurant floor. I spoke with former employees who talked, above all else, about loyalty — her to them and them to her. She'd organise gifts to celebrate staff birthdays and be there to counsel them between shifts when they were struggling with something personal, like "a young chef's unpredictable love life", jokes Nick Honeyman, now chef-owner at Paris Butter.
"To this day it was the most influential kitchen I have ever worked in and it was not for the food. Don't get me wrong, Simon's food is the benchmark for New Zealand and world class, but what I took away was just how he and Creghan ran their business. It was a family, two people continuously putting love and profits back into their own business and recognising each and every one of their staff."
Creghan tells me working a restaurant floor is about drawing strength from within, particularly when dealing with difficult customers.
"You'd be surprised what we get thrown at us. There was a moment last year, actually, when I thought 'I don't know if I can do this anymore!' " she says. "I bit my tongue so bad. But I've always taught my staff 'we don't know what's going on in their lives'. I quite often have to imagine a worst-case scenario and that gets me through it. And never speak to anyone angry, that's what I've learnt."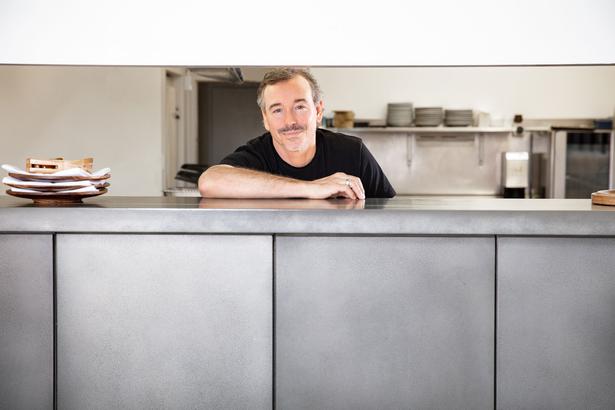 Executive chef Simon Wright. Photo / Babiche Martens

She still remembers a couple of guests who were so bad "for the first time ever I said 'can I just stop this conversation and I'll just come back in one moment?'. I walked around the block three times. And when I eventually came back I asked 'could you perhaps just listen to what I've got to say?', and in the end they left happy!

"They were tourists and after New Zealand they were on their way to swim with the sharks on a Pacific island," she says. "I just kept checking the newspaper to see if anybody had been eaten."

What makes The French Cafe special? For long-time sommelier Andrew Gladding it was "quality, consistency and the ability to evolve". Prominent food writer Lauraine Jacobs admired their ability to continually lift the experience. "The restaurant is truly beautiful, and the changes they've made have kept them ahead". Tony Stewart of Clooney calls it "the benchmark for us all to aspire to. Meeting their level of service, while finding his own style was key. "It was pointless ever trying to emulate what they had created and held on to rigorously".

READ: Restaurant Review: Clooney, Freeman's Bay

But for Simon and Creghan "there is no formula". They simply created the restaurant they wanted to dine in, and if there was one thing they did differently it was that "we led with our hearts, rather than our heads".

Guests came from many different walks of life, some who'd never dined out before. "You can tell they're quite nervous, intimidated," says Creghan. "I'll never forget this one person who came in and sat at table one. Had one course and water, no wine. So they got free bread, the free canape, free snacks, the course they'd paid for and a pre-dessert for $45! And I said to my staff, 'that's the smartest person in the world'."

"It's all about giving, in hospitality," says Simon. "I've just never been the guy who's looked at a prawn and thought 'well that cost a dollar, I have to make 19 dollars back from it'. I've never been that sort of person. We believe in karma, I think that's really reflected back in how well the restaurant has gone for us."

The French Cafe is the sort of restaurant you'd choose for your last meal on earth, and several people who knew they were near the end have done that. "That's important for us, to try and help them forget some of the incredible trouble they're having," says Creghan. One loyal regular even asked if they could deliver her a final meal in hospital.

The couple visited her, spoke with her about what she would like and then returned with a simple dish of chicken consommé and ravioli."Sometimes you'll get a letter afterwards from the family," she says. "You really are part of their life."

But now it's time to go. They hadn't been planning to or thinking of selling, but the call from Sid and Chand Sahrawat ended up being the right offer at the right time. They're feeling "sad but excited" about what will come next.

Creghan had thought the last few months after they announced they were selling might be slow. "I was really worried, to the point it was making me sick."

She needn't have worried. In the days after the news broke "we got a phone call from Maria who does reservations and she said 'do you have any idea?' We'd pretty much got fully booked for the whole three months." They had 900 reservations within a day.

READ: Discover The Auckland Restaurants Who Are Redefining Luxury As Locally Grown

Lauraine Jacobs was one of the people returning for a final time; she ordered Simon's famous crispy roast duck. Others were making braver requests. Twenty years of dining means 20 years of favourite dishes, and the kitchen has been patiently re-creating some of them to order in these last few weeks.

"Oh my God. In the early days we used to do things like salt and pepper squid, which has absolutely no place on my menu now, but I've had to do that a few times," says Simon. "It's unbelievable some of the stuff that we've had to put together."

It's been like the Christmas rush, says Simon who, to be fair, doesn't seem to have had many slow periods in recent years.

"I will miss the pressure," he admits. "Creghan is always talking about good stress and bad stress. Most of the time it's that adrenaline that keeps me going. I get to work and I just race. There are not enough hours in the day for me. Before I know it it's 11 o'clock at night. And I think oh my God, where did that go?"

How will he handle the quiet life? He's looking forward to it — to spending time with his children, mostly, exercising and taking a couple of professional courses he's always wanted to take.

The woman who knows him best thinks he'll be all right. And so will she.

"We're moving to the coast, so I'm very excited about surfing," she says.

"Someone said, "are you not going to get sick of Simon? I said, "'Well he doesn't surf, and it's a big ocean'."
Share this: