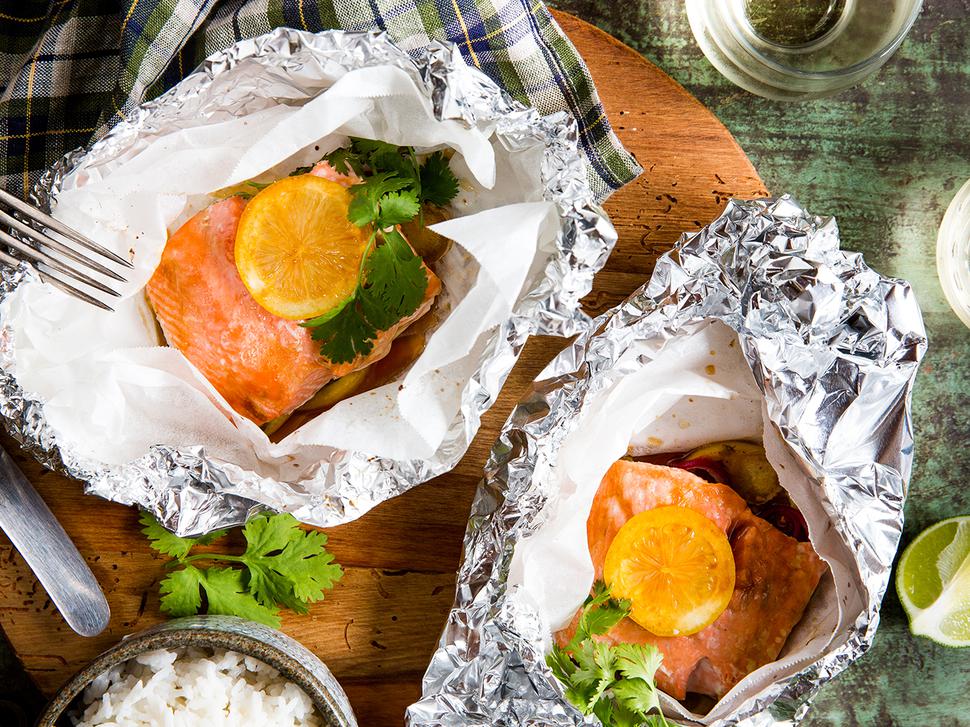 No Mess Fish Parcels
For perfect salmon in a hurry look no further than these easy wrapped delights
Friday March 16, 2018
The fish parcels are quick to prepare and can be wrapped ahead of time and cooked when needed. Serve with hot rice, a green vegetable — such as steamed bok choy — and you're ready to go. For those who can't drag themselves away from the television, serve them in bowls so they're easy to eat on your knees, or be a little more civilised and sit around the table.
NO MESS FISH PARCELS
Serves 4
1 lemon, sliced
8 slices fresh ginger
4 x 150g pieces salmon fillet
1 tsp sesame oil
2 Tbsp sweet soy sauce
2 Tbsp Shaoxing wine (from Asian stores)
4 x sprigs fresh coriander
Steamed rice to serve
1. Preheat oven to 180C. Measure 4 pieces each of tin foil and baking paper for wrapping the fish. Place the baking paper on top of the foil.

2. Into the middle of each place, 3 slices of lemon, 2 bits of ginger then top with a piece of salmon.

3. Combine the sesame oil, soy, and wine in a small jug. Pour a little into each parcel then seal tightly.

4. Cook the salmon for 15-20 minutes or until cooked through.

5. Serve with a sprig of coriander, hot rice and a green vegetable.
Share this:
More Food & Drink / Recipes