Fish Wellington Recipe
Try this tasty fish wellington recipe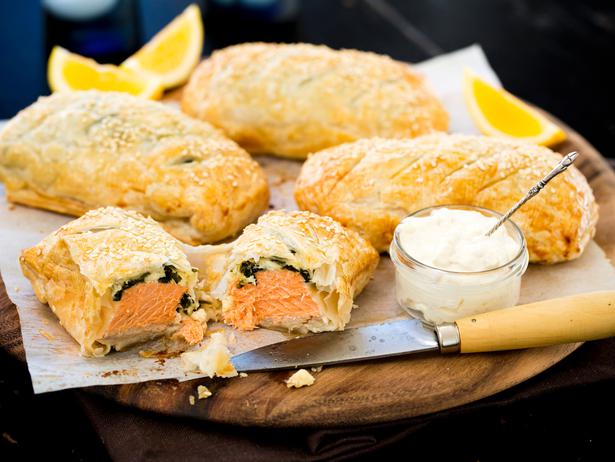 Friday Sept. 26, 2014
FISH WELLINGTON
Serves 4
1 Tbsp butter
1 onion, chopped
120g spinach
100g feta
Pinch nutmeg
Salt and pepper
400g block puff pastry
4 x 120g pieces salmon fillet, bones removed
1 egg to glaze
1 tsp sesame seeds
1. Preheat your oven to 200C.
2. Heat the butter in a frying pan. Add the onion and cook for 3 or 4 minutes. Add the spinach and allow to wilt. Remove the pan and allow to cool.
3. In a bowl combine the spinach, feta, nutmeg, salt and pepper.
4. Roll the pastry into a 30 x 35cm rectangle. Cut it into 4 pieces. Place a piece of fish in the centre of each. Evenly spread the spinach mix over the four pieces. Fold to form each into a parcel, dampening the edges of the pastry to seal and cutting off any excess pastry.
5. Brush the pastry with egg and sprinkle over with sesame seeds. Bake in your hot oven for 20 minutes until puffed and golden.
Share this:
More Food & Drink / Recipes