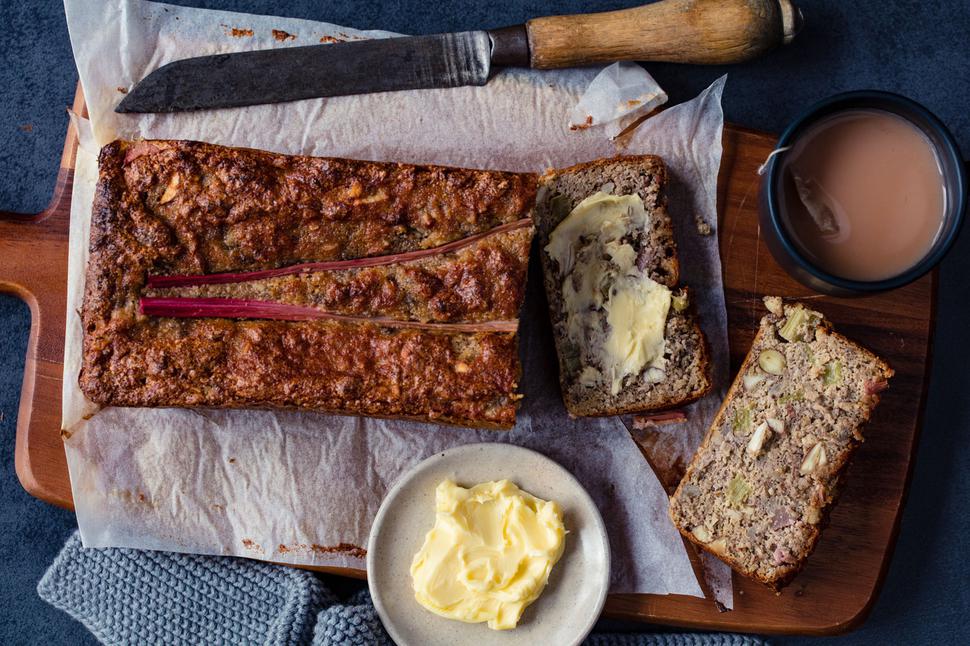 Flourless Banana & Rhubarb Loaf
This loaf recipe is easy to bake, flourless and goes down a treat with a generous spread of butter
Friday July 27, 2018
Enjoy this rhubarb banana loaf fresh from the oven or, if there is any left the day after, try it toasted. It's just as good with a sweet or savoury topping. I'm a fan of butter, so it has to be a generous spread for me with homemade jam. Try it with ricotta and tomato or almond butter with a little fruit jam.
BANANA & RHUBARB LOAF RECIPE
Makes 1 loaf
2 ripe bananas, mashed roughly
3 eggs, separated
2 Tbsp honey
1 tsp baking powder
¼ cup coconut
1 tsp cinnamon
1 tsp ground ginger
1 cup ground almonds
¼ cup chopped almonds
1 cup chopped rhubarb, plus ½ piece for the top
1. Preheat an oven to 170C. Line a 1 litre loaf tin with baking paper.
2. In a large bowl combine the bananas, egg yolks, honey, baking powder, coconut, cinnamon and ginger.
3. Beat the egg whites until light and fluffy. Gently fold through the ground almonds. Then add the two mixtures together. Lastly fold through the nuts and rhubarb gently. Pour into your loaf tin. Sprinkle a little cinnamon and place piece of rhubarb on top, and bake for 30 minutes or until a skewer comes out clean.
4. Cool in the tin. Remove, cool and serve sliced with or without a topping.
Share this: