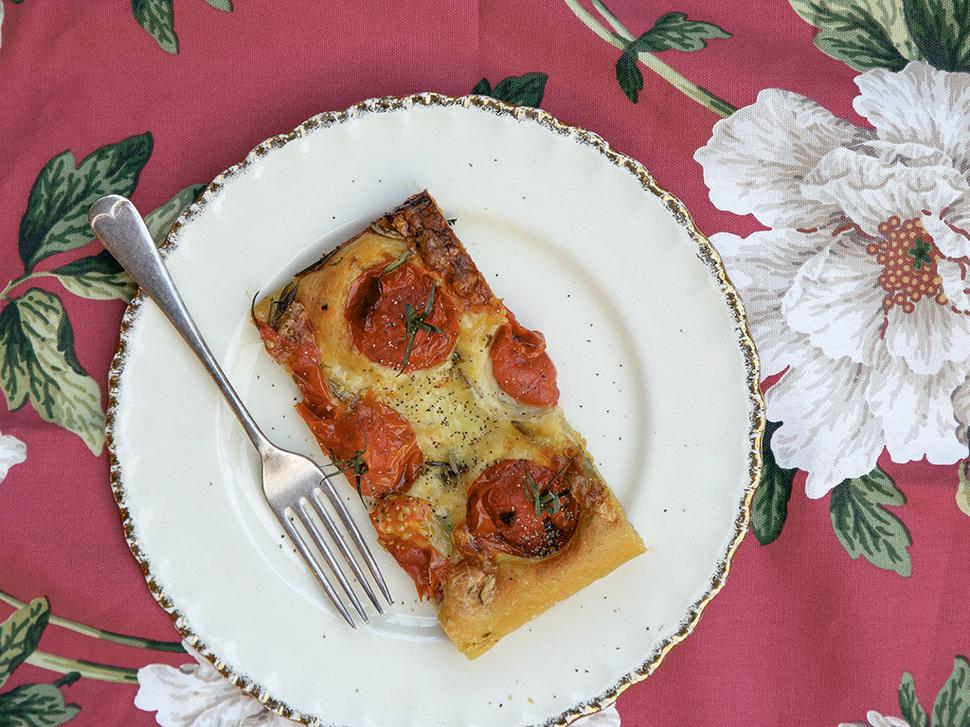 Petite Kitchen's Potato and Rosemary Focaccia Recipe
Try this delicious recipe from Eleanor Ozich
Thursday Aug. 6, 2015
This fragrant focaccia is made with mashed potato and spelt flour, although you could use buckwheat flour for a gluten-free alternative. With each mouthful, the baby tomatoes are little bursts of delight.
I have also made this focaccia topped simply with rosemary and a little sea salt. Delicious.

POTATO & ROSEMARY FOCACCIA WITH ROASTED CHERRY TOMATOES
• 1 tsp dried yeast
• 1 cup cooked mashed potato
• ½ cup olive oil
• 4 cups spelt flour, or flour of your choice, plus extra for kneading
• 1 tsp sea salt
Topping
• 2 cups cherry tomatoes
• 1 cup buffalo mozzarella, roughly chopped (grated mozzarella and most other cheeses also work well)
• Large handful of fresh rosemary
1. Pour 1 cup of warm water into a large mixing bowl. Sprinkle the yeast over and leave for 5 to 10 minutes, or until frothy.
2. Mix in the mashed potato and olive oil. Stir in the flour and sea salt, and mix with your hands until the dough starts to come away from the side of the bowl.
3. Turn the dough out on a floured surface and knead for about 4 to 5 minutes.
4. Place the dough in a lightly oiled bowl, cover with plastic wrap and leave to rise for at least 3 hours, or overnight.
5. Set the oven to 200C. Line two baking trays with baking paper.
6. Using oiled hands, divide the dough into two balls.
7. The dough will be a little sticky. With your hands, flatten the dough, then shape each piece into a large rectangle measuring about 30 x 35cm and about 1cm thick.
8. Top the bread bases with the whole cherry tomatoes and the cheese, then sprinkle with the rosemary, some sea salt and freshly ground black pepper.
9. Bake for 25 minutes, or until the tomatoes are well roasted, and the bread is nicely browned on the edges. Remove from the oven and leave to cool before cutting into 12 pieces.
10. These focaccias are best enjoyed on the same day they are made.
Share this:
More Food & Drink / Lunch