Four-Cheese Tarts Recipe
Indulge in these cheese tarts for a special occasion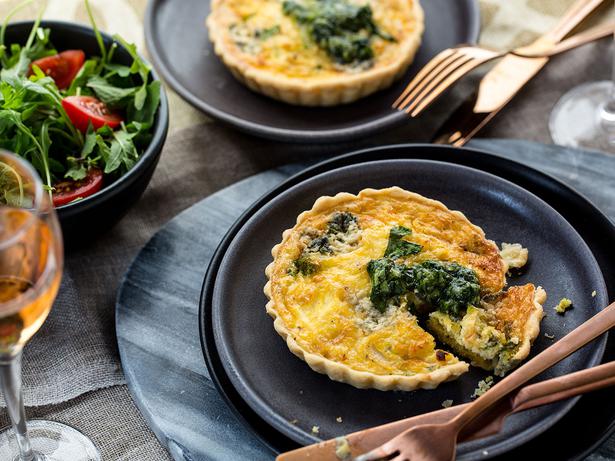 Friday Feb. 10, 2017
If you're bit of a sucker for cheese like me, these cheese tarts are a mighty fine way to indulge on a special occasion. The sweet basil dressing adds the finishing touch. You could eat this with your fingers or serve on a plate with a few salad greens and cutlery.
FOUR-CHEESE TARTS RECIPE WITH BASIL DRESSING
Makes 4
Tarts
150g savoury pastry
4 eggs
½ cup milk or cream
1 spring onion, chopped finely
Salt and pepper
½ cup grated parmesan
80g blue cheese, crumbled
½ cup grated cheddar
½ cup cottage cheese
¼ cup chopped parsley
Dressing
1 clove garlic
¼ tsp salt and freshly ground pepper
Zest and juice of ½ lemon
1 Tbsp honey
1 cup roughly chopped basil
¼ cup olive oil
1. Preheat oven to 180C.
2. Roll the pastry on a lightly floured bench and line the base of 4 x 10cm quiche tins. Place a piece of baking paper in each with rice or baking beans and bake blind for 15 minutes. Remove the paper and beans.
3. In a large bowl, whisk the eggs and milk or cream lightly. Add the spring onions, salt, pepper, parmesan, blue cheese, cheddar, cottage cheese and parsley. Pour into the tart tins and bake for 20 minutes until golden and set. Remove and cool.
4. To make the dressing, crush the garlic, salt, pepper and lemon zest in a mortar and pestle. Add the lemon juice, honey and basil. Grind again and drizzle in the oil.
5. Serve topped with a spoonful of dressing.
Share this:
More Food & Drink / Recipes