Fragrant pickled vegetables from Petite Kitchen
Eleanor Ozich of Petite Kitchen pickles her vegetables in a mix of apple cider vinegar and herbs.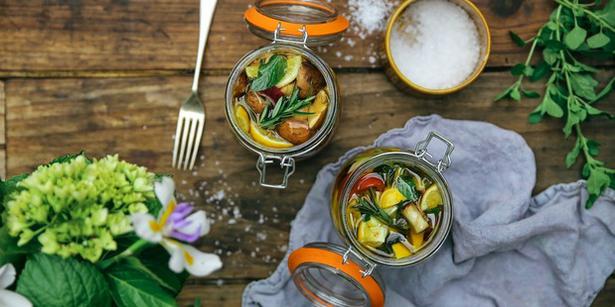 Thursday Dec. 4, 2014
Like summertime in a jar, these gorgeously vibrant pickled vegetables are fantastic for when you have an abundance of produce that needs a little love. This method is easy; simply layer the vegetables, lemon, herbs and coarse sea salt in jars, then douse them with a delicious apple cider vinegar and extra virgin olive oil brine.
You could use almost any kind of vegetable, as the pickling process softens them and soaks up all the brilliant flavours. Delicious served alongside a cheese platter, in an open sandwich or as an easy side to grilled meat or fish. 

VEGETABLES PICKLED IN APPLE CIDER VINEGAR AND FRAGRANT HERBS
• Selection of vegetables* see below
• Handful of fresh rosemary, roughly torn apart
• Handful of fresh oregano, roughly torn apart
• 1 tbsp coarse sea salt
• 1 lemon, sliced in half and then into 1 cm thick pieces
• Ground pepper
* I used a mixture of peppers, mushrooms, red onion, eggplant and courgette.
For the brine
• 500ml water
• 500ml apple cider vinegar
• 500ml extra virgin olive oil
1. Make sure you have two 1-litre jars sterilised and ready on hand.
2. Roughly chop all of the vegetables into 1 cm thick pieces. You want them all a similar size so the brine penetrates them well.
3. Combine vegetables, herbs, sea salt and lemon in a bowl. Toss well, and then transfer in to the two glass jars.
4. Combine the water and apple cider vinegar in a saucepan over medium heat. Bring to the boil, then carefully pour over the vegetables. The vegetables will rise to the surface and, using a spoon, push them down so they are submerged in the liquid.
5. Top the jars with olive oil, and secure the lids tightly. Turn the jars upside down 1-2 times to mix well.
6. Store the jars somewhere dark and cool. I keep mine in the pantry.
7. Leave them for 1½ to 2 weeks before opening to make sure the flavours mingle and marinate well. Once opened, store in the fridge, will keep for up to three months.
Share this: