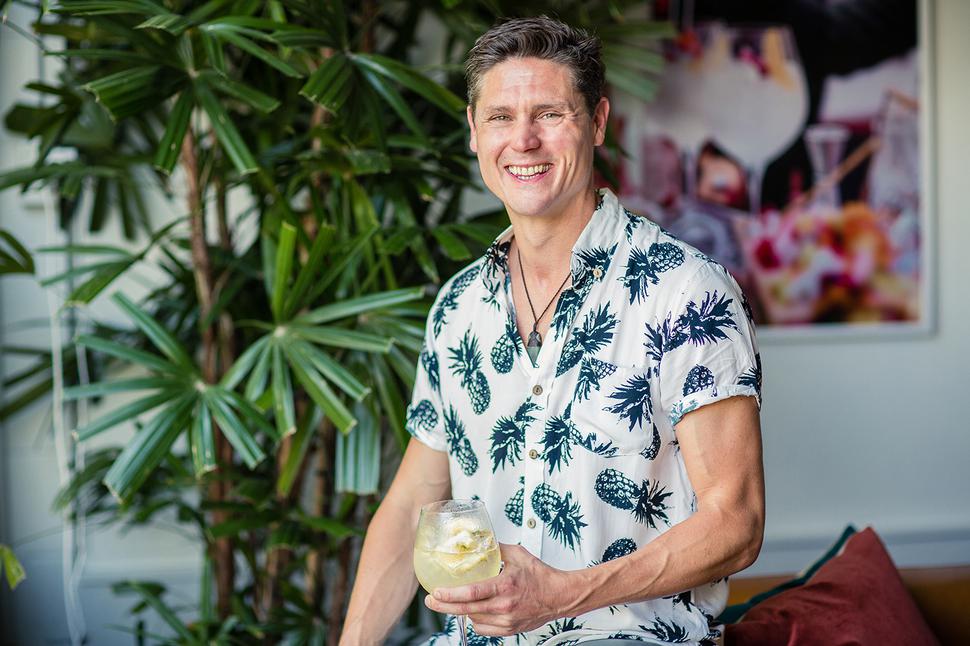 Cocktail Expert Frankie Walker's Top Tips For The Best Summer Drinks
Shake, stir and citrus-press your way to mixology success with the help of Black Pineapple's founder
Tuesday Dec. 29, 2020
Every budding mixologist should have … light, bright spirits that are versatile and easy to mix such as vodka, a good London dry gin and light rum. Then you'll need modifiers — things that can provide depth of flavour — such as orange liqueur, elderflower liqueur, Campari, 100 per cent agave tequila. Bitters is key. Angostura bitters is an absolute staple — it's like salt and pepper for bartenders.
As for equipment ... it depends how pro you want to go, and you'll have plenty of stuff in your kitchen already. If you want to get serious you'll need paring knives, a chopping board, a shaker, Hawthorne strainer, fine strainer, bar spoon, jiggers for measuring, and a citrus press. Try Bargeek.com.au and CocktailKingdom.com, which stock all the professional equipment you need.
The best drink to serve when surprise guests drop by is … something delicious, simple and easy like a gin and tonic with a splash of Campari and a little bit of orange marmalade stirred through it with a slice of orange. You'd be amazed how great that is. Or try a pitcher of raspberry spritz, which is white wine, soda, lemon and raspberry jam. Combine the citrus and jam first, then add it to the wine and soda, throwing it into a pitcher with some fresh fruit.
TRY: Easy Low-Alcohol Cocktail Recipes To Try At Home
If it's a drink that requires ice ... the simple science is the more ice, the better. If it's a tall, refreshing drink use as much ice as you possibly can because the more ice you have, the colder it is and the less it will melt and dilute. You end up with better-tasting drinks. If you think you're using a lot of ice, use some more.
Some great mixers to try are … East Imperial Royal Botanic; Salted Grapefruit from Strangelove; Redeem Mandarin Yuzu Kefir Soda. Fever Tree smoky ginger ale is great with dark spirits.
When it comes to garnishes ... mint will never go out of fashion because the aroma is light, bright, fresh and uplifting. Anything aromatic like kaffir lime leaves and Vietnamese mint are great. Try a combination of sage and blood orange or lemon and mint or kaffir lime and lime for a real pop of aroma.
A great non-alcoholic option is … a shrub, which is an old-school category of cocktail made from cider vinegar, fruit and sugar. A strawberry shrub made from macerated strawberries, blended or strained and added to cider vinegar is a beautiful base for a shrub. Just add soda.
READ: The Art Of Crafting Stylish Mocktails This Summer
For a fun drinks station … get guests involved with a bit of customising. Have nice containers, bowls, cups or glasses and display fresh herbs and citrus, some spices, lemon juice, lime juice, honey syrup and passionfruit syrup. Put a little sign out or a blackboard with some rough measurements, then let them create.
The key elements for a beautifully presented drink are … the right glass, first of all. If it's a tall, refreshing drink, start with a tall glass. If you've got something really aromatic, the right kind of glass is going to help with that — like a nice big wine glass. Have the right type and amount of ice (it's always more than you think). Visually, be thoughtful and follow the principle of decorating a cake.
When it comes to creating a drinks menu, always think … seasonally. Go to the supermarket and see what's bountiful and what's in season. Mid-summer and Christmas, it's all about fresh berries. See what's in abundance and steer away from what isn't.
Discover more at Black Pineapple
Share this: