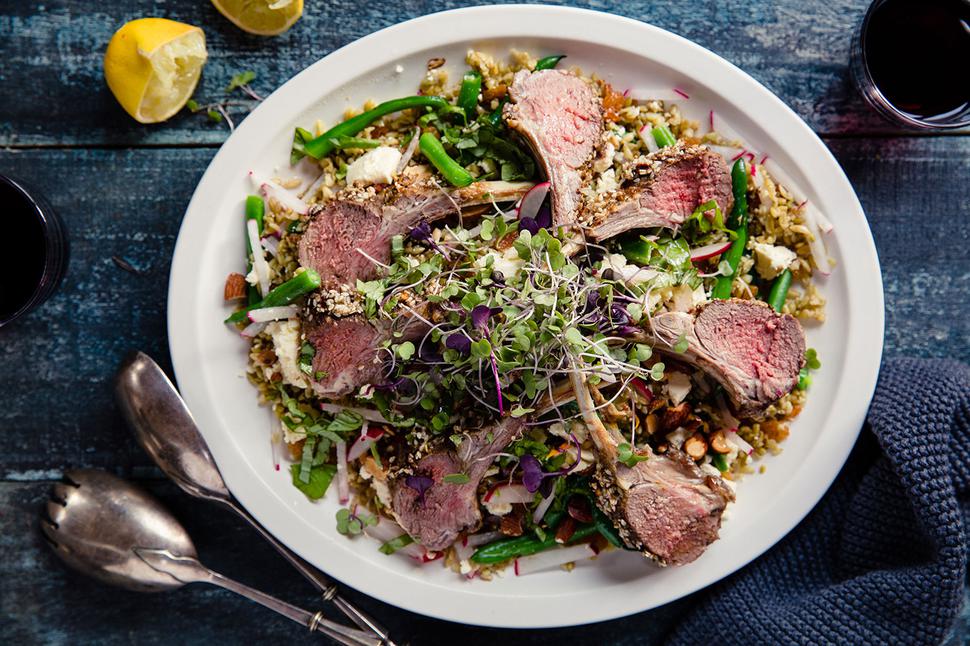 Freekeh & Feta Salad With Spicy Lamb Cutlets
Add some excitement to your next salad with this delicious Middle Eastern grain
Friday Sept. 28, 2018
For this lamb salad recipe, use an easy-to-cook cut. I like to chew the bones, so have used tender cutlets, but if you'd rather use a fillet or loin, that's great too. Freekeh, with its unique flavour, is a nutty and slightly chewy grain that's great to cook with. Don't be scared off by having not used it before. Here I put my twist on a good old Kiwi salad with a scattering of freekeh, which is found in a lot of Middle Eastern cuisine.
FREEKEH & FETA SALAD WITH SPICY LAMB CUTLETS RECIPE
Serves 4
1 cup freekeh
1 cup boiling water
Pinch salt
Marinade
1 Tbsp olive oil
½ tsp cumin
1 tsp dried oregano
2 tsp sesame seeds
½ tsp salt and freshly ground pepper
Pinch chilli flakes
1 rack lamb
Salad
100g crumbled feta
100g blanched green beans
2 radishes, cut into thin sticks
½ cup roughly chopped almonds, toasted
¼ cup lemon juice
2 Tbsp olive oil
Salt and freshly ground pepper, to season
Micro greens, to decorate
1. Preheat the oven to 180C. Cook the freekeh in the boiling salted water for 15 minutes until the water has been absorbed. Set aside.

2. In a small bowl combine the oil, cumin, oregano, sesame seeds, salt, pepper and chilli flakes. Rub over the lamb.

3. Cook the lamb in the oven for 10-15 minutes. Remove and let it sit for 10 minutes.

4. In a large bowl, combine the cooked freekeh, feta, beans, radish sticks and almonds. Toss through the lemon juice and olive oil. Season with salt and pepper. Place on to a serving platter. Top with sliced lamb cutlets and the micro greens to decorate.
Share this:
More Food & Drink / Recipes