Fregula, Chorizo and Radicchio Recipe
Try fregula - a mini ball-shaped pasta - in this recipe for a tasty one-pot wonder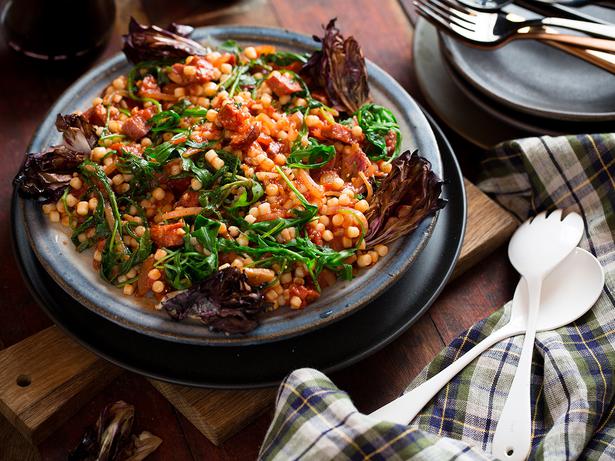 Friday Sept. 29, 2017
On a recent outing I tried tomato fregula topped with a piece of freshly-caught hapuka. This inspired me to create something with fregula — a mini form of pasta in small balls. Made from semolina dough and from Sardegna (Sardinia), you will find it in some supermarkets or specialty stores.
Here, I have made a simple sauce to fold through with rocket, and fried some radicchio. Some people find radicchio (from the chicory family) a little bitter, so feel free to omit or replace with a steamed green vegetable.
FREGULA, CHORIZO AND RADICCHIO
Serves 4
250g fregula
1 Tbsp olive oil
1 red onion, sliced finely
4 cloves garlic, sliced
1 Spanish chorizo, cut into chunks
1 cup red wine
400g tin diced tomatoes
Salt and freshly ground pepper to taste
2 cups rocket
1 Tbsp oil
2 small radicchio
1. Cook the fregula as per packet instructions.
2. Heat oil in a frying pan to a medium heat. Add onion, garlic and chorizo cooking until brown and golden. Add wine, tomatoes, salt and pepper to taste and cook for 10 minutes until slightly thickened.
3. Toss in the rocket to wilt.
4. Heat a frying pan to a medium heat. Add the 1 tablespoon oil. Fry radicchio until slightly browned.
5. Mix the fregula with the chorizo mixture. Place in a serving bowl and garnish with the fried radicchio.
Share this:
More Food & Drink / Recipes