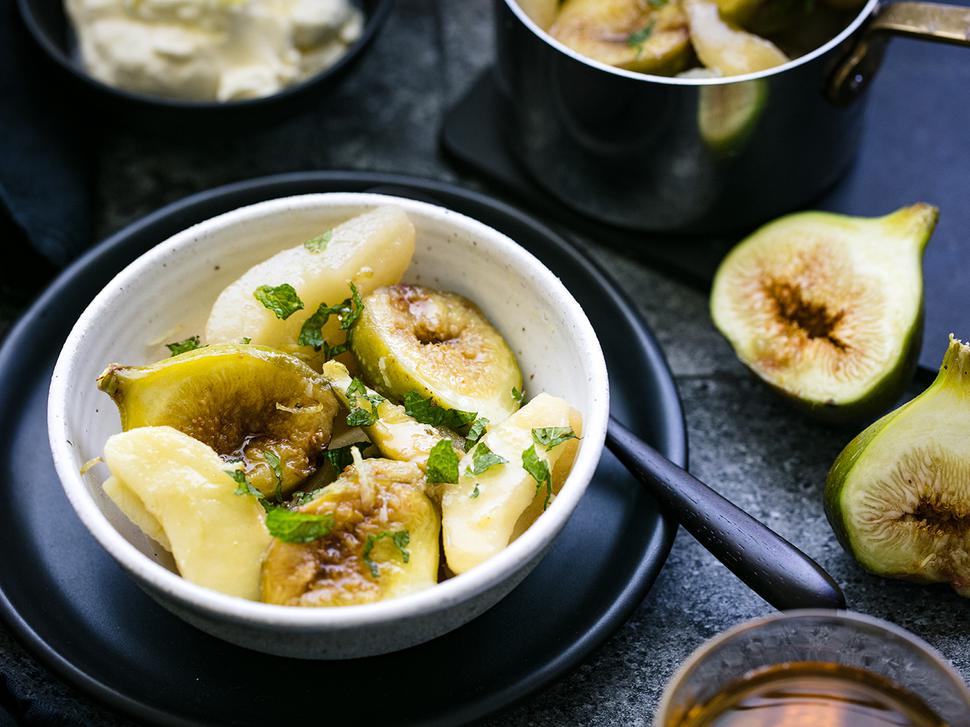 Fresh Fig & Pear Compote
Serve me warm with a gorgeous dollop of creme fraiche
Friday March 23, 2018
The combination of pears and figs in this compote is not only seasonal, but the flavours and textures divine. A huge array of flavours can be added to a compote, which is any fruit simply cooked in a syrup. Fresh, frozen or dried are commonly used.
FRESH FIG AND PEAR COMPOTE 
Serves 4-6
2 ripe pears, peeled and cored
2 tsp lemon zest
2 Tbsp lemon juice
¼ cup white wine
¼ cup white sugar
5 figs, halved
½ cup chopped mint
1 cup creme fraiche
Limoncello to taste
Runny honey to drizzle
1. Cut each pear into 6. Place into a saucepan with ¼ cup water, lemon zest, juice, wine and sugar. Bring to a simmer, stirring occasionally, cooking the pears until just softened. Add the figs and continue to cook for 5 minutes until a little squidgy. Remove from the heat, stir through half the mint and cool completely.
2. In a small bowl combine the creme fraiche and a good dash of limoncello.
3. Serve the compote with a dollop of creme fraiche and a sprinkle of chopped mint.
4. Drizzle with a little honey.
Share this:
More Food & Drink / Recipes