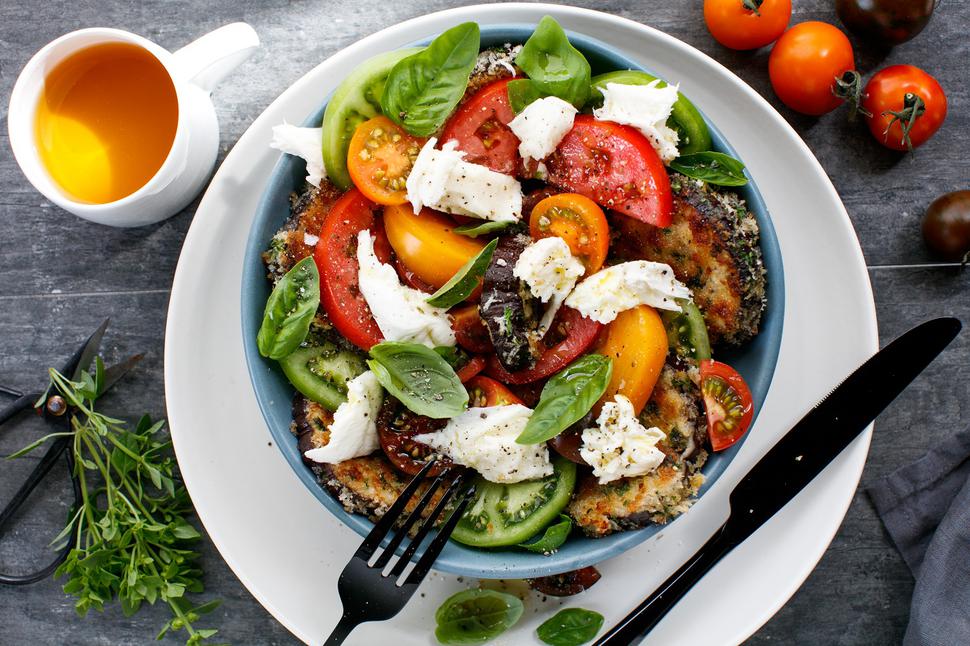 How To Get Creative With Fresh Mozzarella
Say cheese. These recipes make it easy to experiment with this Italian favourite
Tuesday Dec. 4, 2018
Tomato & Mozzarella Salad With Crumbed Eggplant
This salad is summer in a bowl. Juicy tomatoes are paired with soft white mozzarella, fragrant basil and golden fried eggplant. Serve with lemon-infused olive oil and eat al fresco for ultimate enjoyment.
Mozzarella, Prosciutto & Fig Salad
There's no cooking involved in creating this salad. The torn bocconcini and peppery watercress with a pomegranate drizzle is delicious and makes a wonderful starter or accompaniment to grilled chicken.
Mixed Tomato & Mozzarella Salad
Simply throw together a handful of ingredients and end up with this delicious salad. Edible flowers add a beautiful touch, but simply omit if you can't get your hands on any.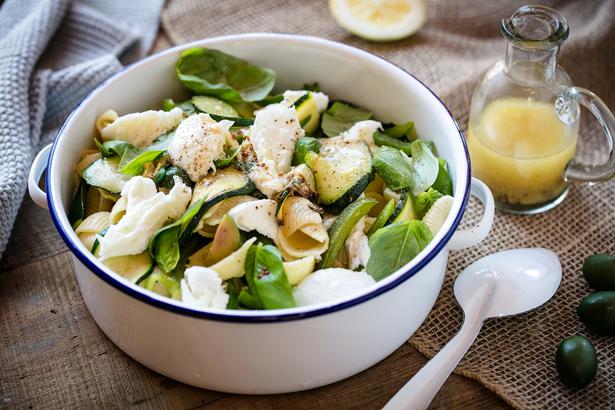 Warm Courgette & Mozzarella Pasta Salad
This courgette pasta salad recipe is a change from the usual saucy numbers, but equally as delicious with the soft, shredded mozzarella folded through. Nobody likes the thought of a pile of dishes at the end of dinner, so this meal is perfect because it takes minimum effort and creates minimal mess.
Fig & Mozzarella Bruschetta
Change up your bruschetta toppings with this mozzarella and fig recipe. When roasted, figs become sweet and caramelised and will dissolve in your mouth. A mild cheese, like mozzarella, adds a freshness to the topping, along with the mint.
Asparagus, Peas & Mozzarella
Fresh ingredients are key to creating this simple salad. Good quality asparagus and fresh peas are all you need to make this salad shine. A topping of soft mozzarella takes it to delicious new heights.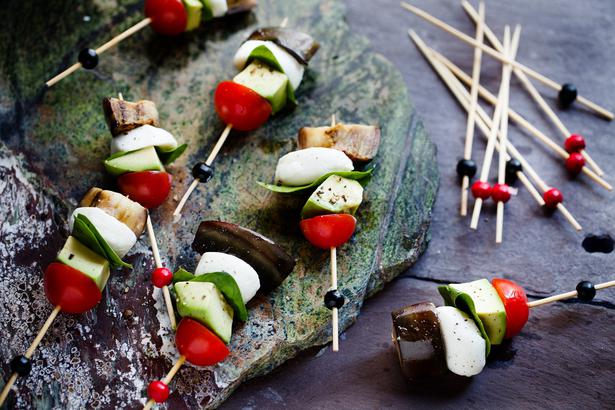 Aubergine Skewers With Mozzarella & Tomato
Step up your snack game with these seriously tasty skewers. Layer summer favourites aubergine, tomatoes, avocado and mozzarella to create bites that go down a treat with your favourite tipple.
Vegetable Salad With Mozzarella & Wild Mushroom
This salad only gets better with time, so let it sit for 15 minutes — if you can wait. The combination may sound a bit unusual, but trust us, it is truly delicious.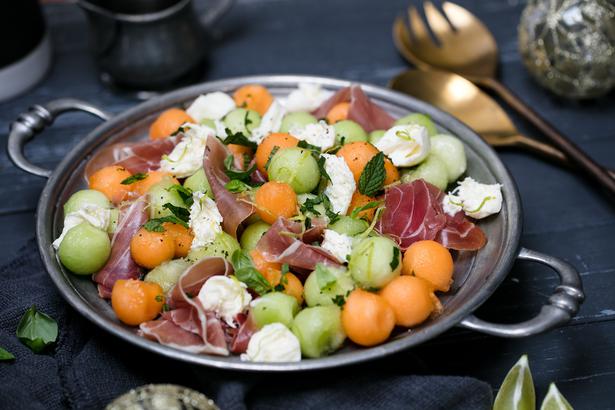 Melon, Prosciutto & Mozzarella Salad
Fresh and prepared straight on to the serving platter, this salad is the perfect accompaniment to any festive meal. You could serve as a refreshing starter or with barbecued grilled meat.
Brussels Sprouts Salad Recipe With Fresh Mozzarella
What better way to make Brussels sprouts more appetising than pairing them with creamy mozzarella, sweet pear and earthy walnuts?
Margarita Pizza
What's a pizza without mozzarella? This recipe creates a classic that's perfect for any occasion. Homemade pizza bases make all the difference.
Share this: