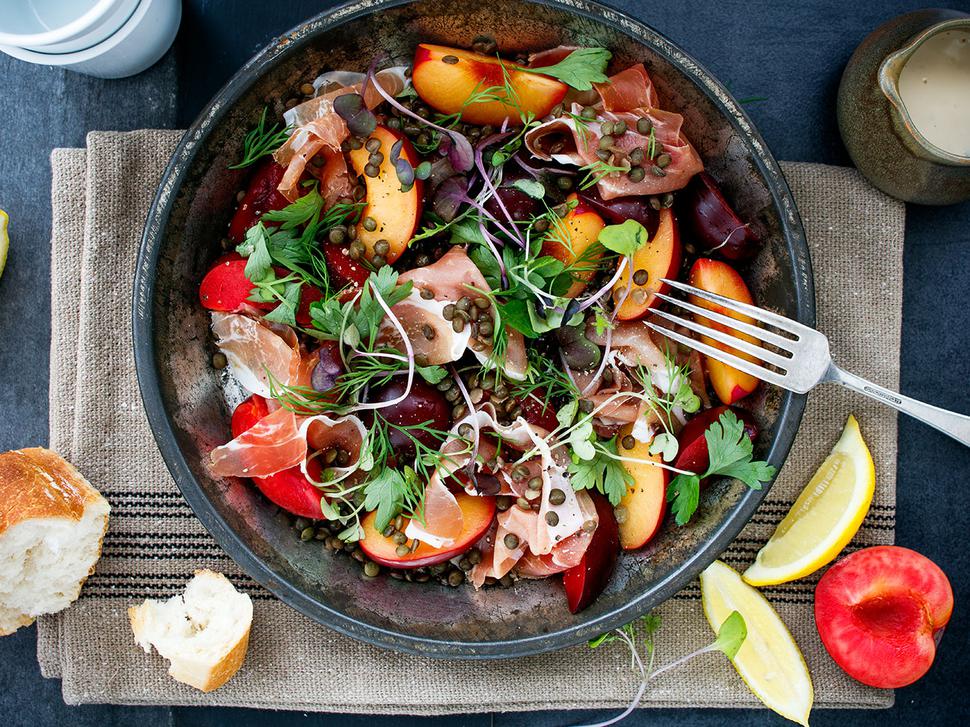 Fresh and Inspiring Salads for Summer
A selection of delicious salads to make the most of the season's freshest produce
Saturday Dec. 23, 2017
Lentil, Prosciutto and Plum Salad
End summer on a high with this delicious fruity salad using lentils, salty proscuitto and in season plums. Sprinkle on microgreens or shredded basil, which complements all stone fruit and, finally, a good grind of fresh pepper.
Crumbed Eggplant, Tomato and Mozzarella Salad
Coat eggplant with egg and breadcrumbs, then fry to ensure a crispy coating. This is perfect combined with tomatoes, soft white mozzarella and basil.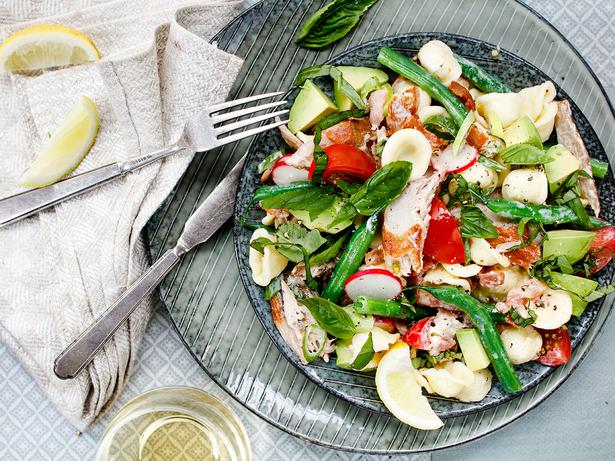 Smoked Fish Salad and Orecchiette
When buying smoked fish ensure you buy the freshest and moistest — it can make or break this salad. All fish types can be smoked, so the options are endless. If you smoke your own fish, even better. For this salad, it is combined with fresh vegetables and tossed together with lemon aioli. 
Cucumber and Citrus Salad
Light and refreshing cucumber and citrus go perfectly together in this simple salad. Slicing the cucumber thinly makes a little go a long way. Enjoy as a starter or with some baked chicken or fish.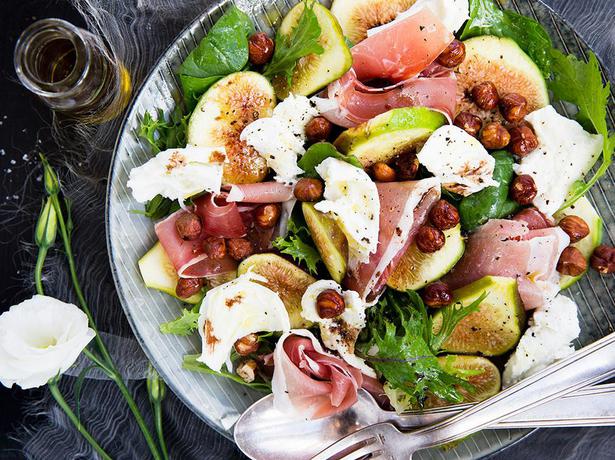 Impress quickly with this elegant fig, mozzarella and prosciutto salad. Picture / Babiche Martens

Fig, Mozarella and Prosciutto Salad
Quick and elegant, this fig salad with proscuitto, fresh mozzarella, roasted hazelnuts and greens is perfect for any occasion. 

Raw Brocolli and Smoked Salmon Salad
Here is a recipe for a brilliant raw broccoli salad tossed with smoked salmon, black olives, toasted seeds and a creamy avocado dressing. The trick is to add plenty of garlic and lemon for an incredible flavour kick. This delicious dish truly has an incredible texture from the crunchy broccoli, and can be served without salmon if you are vegetarian or vegan.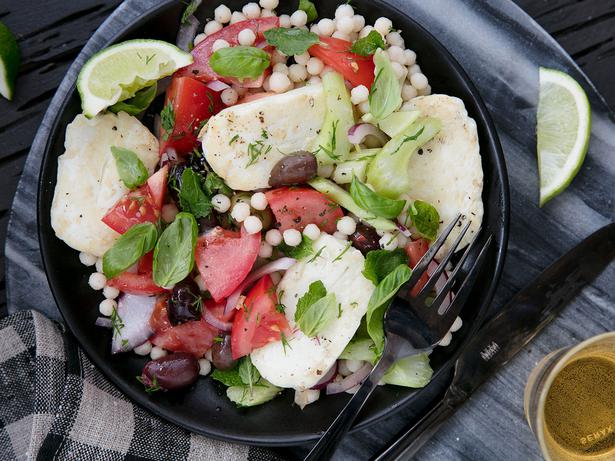 Halloumi and Israeli Couscous Salad 
Couscous is a wonderful base for a salad, so when it comes to clearing out the fridge team it with what you find: tomatoes, celery, olives, herbs . . . To make it more substantial add fried halloumi, sliced steak or chicken breast. To dress it up for guests add some chopped artichokes and green olives. Don't forget a squeeze of fresh lime.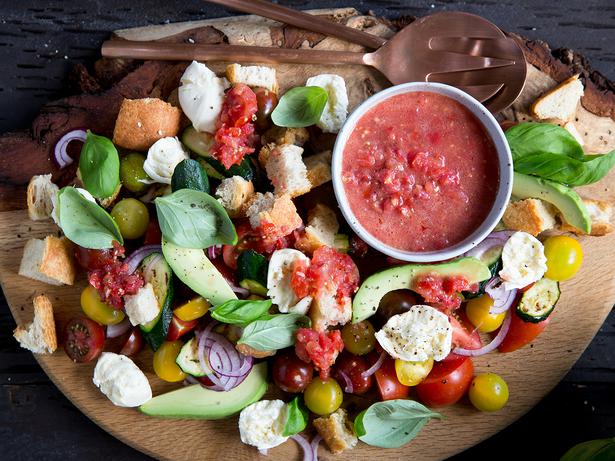 Get right track for summer with this Panzanella Salad. Picture / Babiche Martens

Panzanella Salad Recipe
Made with the freshest ingredients, this salad board will get you on the right track for summer. A few mouthfuls of this and you will be transported to the warmth of a Mediterranean seaside eatery.

Watermelon Panzanella
If you have a large watermelon on hand, turn it into a panzanella with herbs from the garden and croutons from the pantry. It's fresh and a perfect accompaniment. 
Watermelon and blue cheese...trust us, it's a heavenly combination. Picture / Babiche Martens

Watermelon Salad with Blue Cheese
This watermelon and pea salad makes for a great starter or to serve alongside meaty treats cooked on the barbecue. It's all about fresh seasonal produce.


Black Spaghetti with Fennel and Prosciutto
Fennel paired with colourful orange, garlic and prosciutto makes a fresh and delicious combination with black spaghetti. More of a warm salad than a hot pasta dish, this is a quick-to-prepare light meal. You'll find black spaghetti in the health aisle at the supermarket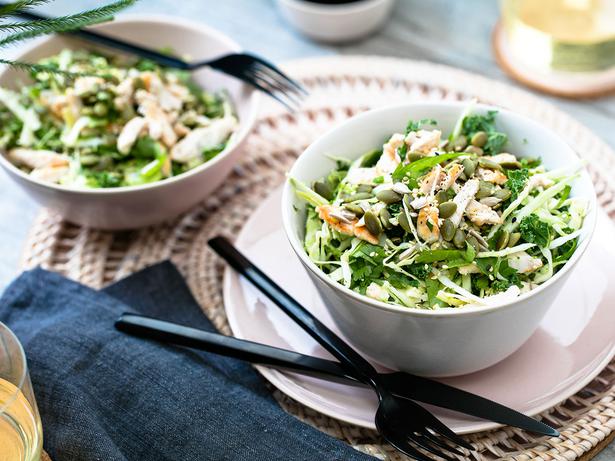 Green Slaw
A great crunchy green slaw is hard to beat. Perfect it now and it will carry you through the summer months. Scrummy for lunch at work, it will also help to feed a crowd at a barbecue or weekend lunch. If you feel inspired, add extra vegetables, herbs or chilli to spice it up.
Asparagus and Orange Salad
Summer delivers sweet cherry tomatoes and juicy cucumbers, which is combined with asparagus spears and creamy morsels of fresh cheese.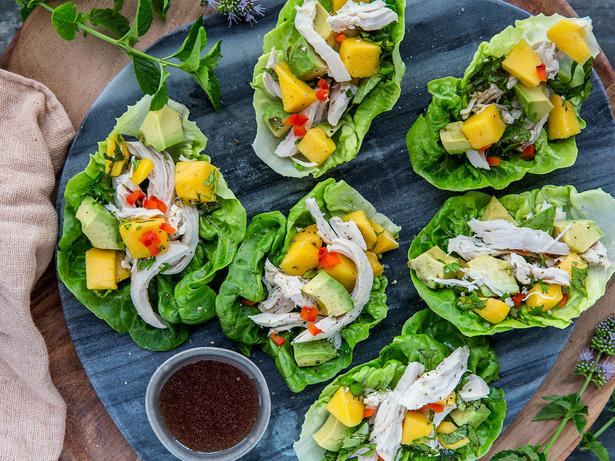 Juicy sweet mangoes and tender chicken combine for sensational salad bites. Picture / Babiche Martens

Chicken, Mango and Avocado Salad Recipe
Try this salad while mangoes are large, sweet and super juicy

Grilled Spring Onions with Capers and Parmesan
Spring onions, grilled and glistening with olive oil, paired with bright notes of lemon juice and a sprinkling of salty parmesan. Add a few perfectly ripe slices of avocado, and you have what might just be my favourite salad of all.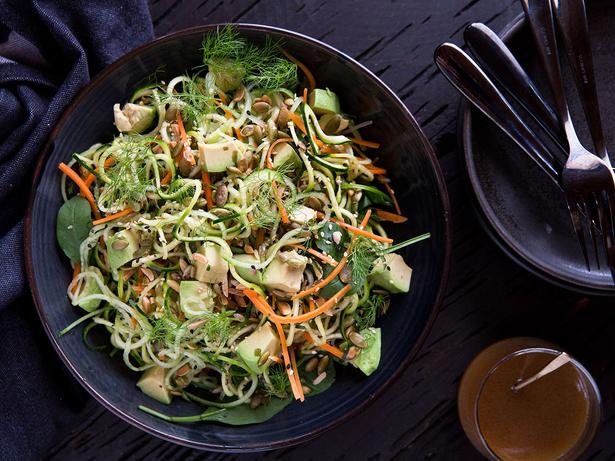 Spiralled raw vegetables served with roasted seeds and nuts and a tangy dressing. Picture / Babiche Martens

Spiral Vegetables Recipe with Seeds & Nuts
Serving up a mix of raw vegetables is always a winner as the flavours are at their pure best. This salad particularly well alongside barbecued meat or a freshly baked quiche on a sunny day.
Share this:
More Food & Drink / Recipes