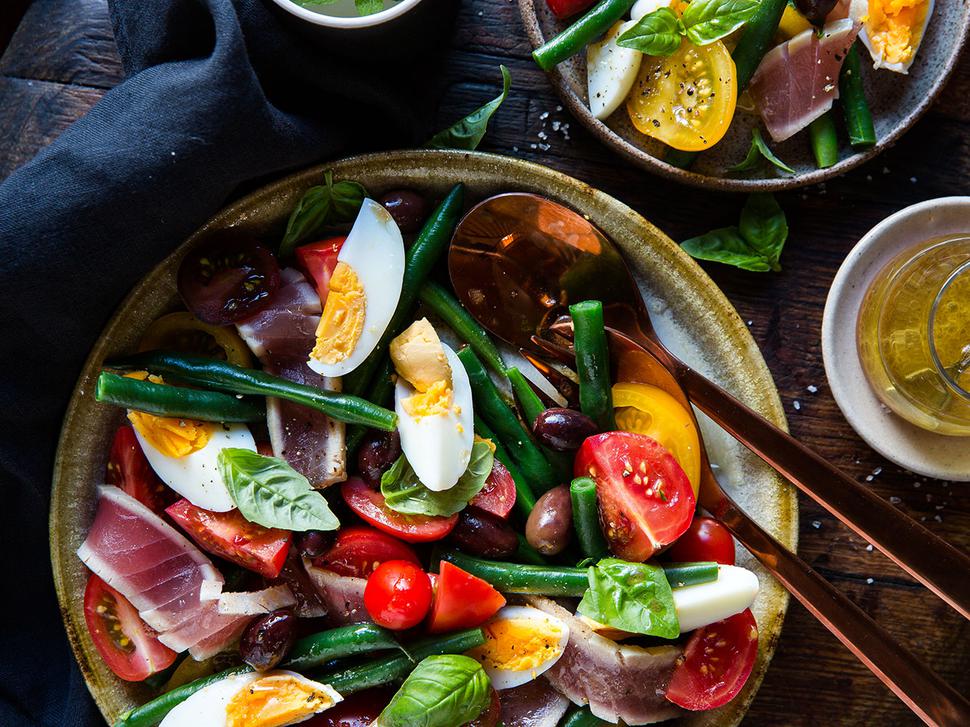 Fresh Tuna Nicoise Salad
This delicious late-summer salad is a classic that delivers on nutrition and flavour
Friday March 2, 2018
This colourful Nicoise salad bowl is a must-try. Made with fresh seared tuna, eggs, beans, tomatoes and served with a light anchovy dressing, it is simply delicious.
FRESH TUNA NICOISE SALAD
Serves 4
Dressing
1 clove garlic
2 anchovies
½ tsp Dijon mustard
Pinch salt and pepper
¼ cup olive oil
2 Tbsp lemon juice
Salad
200g fresh tuna
200g green beans, blanched
3 cups fresh mixed tomatoes
½ cup Kalamata olives
4 boiled eggs
1 cup basil leaves
1. Firstly make the dressing. In a mortar and pestle or small bowl, mash together the garlic, anchovies, mustard and salt and pepper. Whisk in the olive oil and lemon juice.
2. Heat a frying pan to a high heat. Rub a little oil on the tuna and sear for 30 seconds each side. Remove and cool.
3. In a large bowl combine the beans, tomatoes, olives, eggs and basil. Slice the tuna thinly and add. Season with salt and freshly ground pepper.
4. Dress the salad and serve with crusty bread.
Share this:
More Food & Drink / Recipes