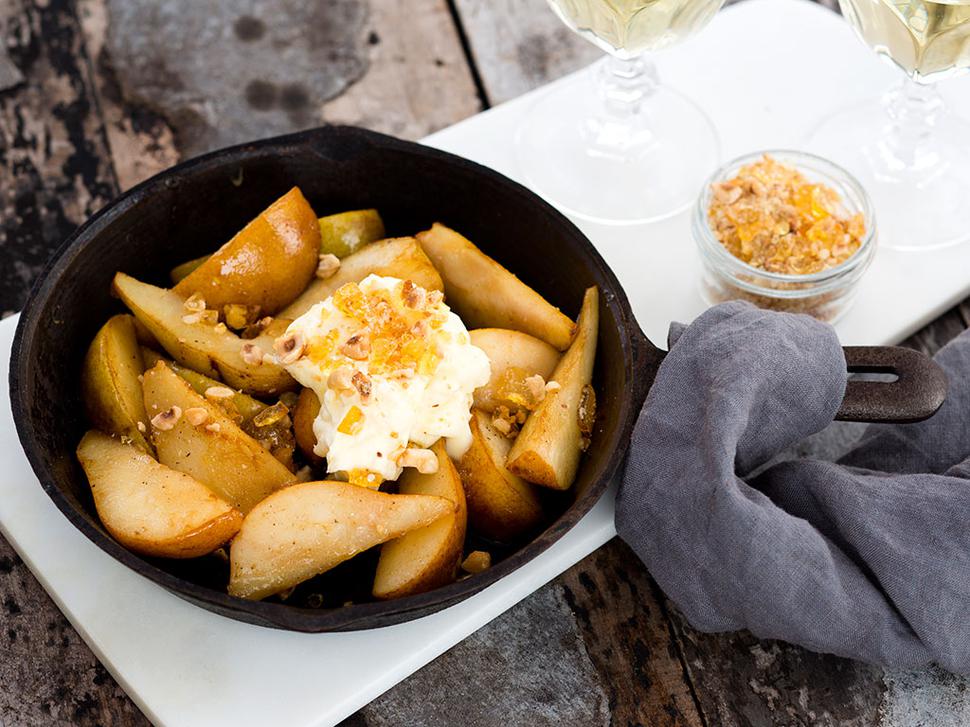 Fried Pears Recipe with Hazelnut Praline
The perfect last minute dinner party dessert
Monday May 11, 2015
FRIED PEARS WITH HAZELNUT PRALINE
Serves 4
• ½ cup sugar
• ½ cup water
• 100g roughly chopped hazelnuts
• 15g butter
• 2 pears, cored, cut into thick slices
• 2 Tbsp brown sugar
• Zest and juice of ½ lemon
• Creme fraiche to serve
1. First make the praline. In a small pot place sugar and water. Simmer until golden brown. This will take about 10 minutes. Resist stirring.
2. Place a piece of baking paper on a tin tray and sprinkle the nuts. When caramel is ready pour it over the nuts and leave to cool. Either place in a kitchen processor and blitz until chunky or cover with another piece of paper and hit gently with a rolling pin to crush.
3. Place butter in a frying pan and bring to a sizzle. Add pears and toss until lightly brown and starting to soften. Add sugar and lemon. Continue to cook for 3 or 4 minutes.
4. Serve warm or cold with a dollop of creme fraiche and a sprinkling of praline.
Share this:
More Food & Drink / Desserts