Egg Fried Rice Recipe with Chicken and Prawns
Make this tasty fried rice your go to meal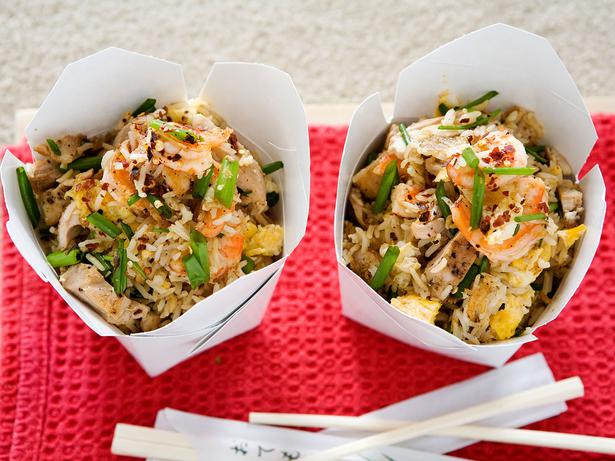 Thursday Aug. 20, 2009
EGG FRIED RICE WITH CHICKEN AND PRAWNS
Serves 4
3 Tbsp peanut oil
16 prawns, peeled and de-veined
3 eggs, lightly beaten
600g boneless and skinless chicken thigh meat, sliced
3 tsp ginger, finely chopped
3 cloves garlic, finely chopped
3 cups cooked long grain rice
2 Tbsp light soy sauce or tamari
3 tsp oyster sauce
1 tsp sesame oil
Salt
3 spring onions, sliced
4 tsp toasted sesame seeds
Dried red chilli flakes to serve
1. Heat a wok or large frypan. Add 1 tablespoon of the peanut oil then the prawns and cook over a high heat until just done - approximately two minutes. Remove then add the egg and gently stir until just set. Remove to a plate and slice.
2. Keep the wok hot, add another tablespoon of the oil then the chicken and cook for approximately 6-7 minutes while stirring, or until done then remove.
3. Wipe the wok again if necessary then add the final tablespoon of oil. Add the ginger and garlic. After a minute add the rice. Stir fry for two minutes then return the prawns, chicken and egg. Add the soy, oyster and sesame sauces. Taste for seasoning then stir through the spring onion. Serve in bowls or boxes topped with toasted sesame seeds and chilli.
Share this: