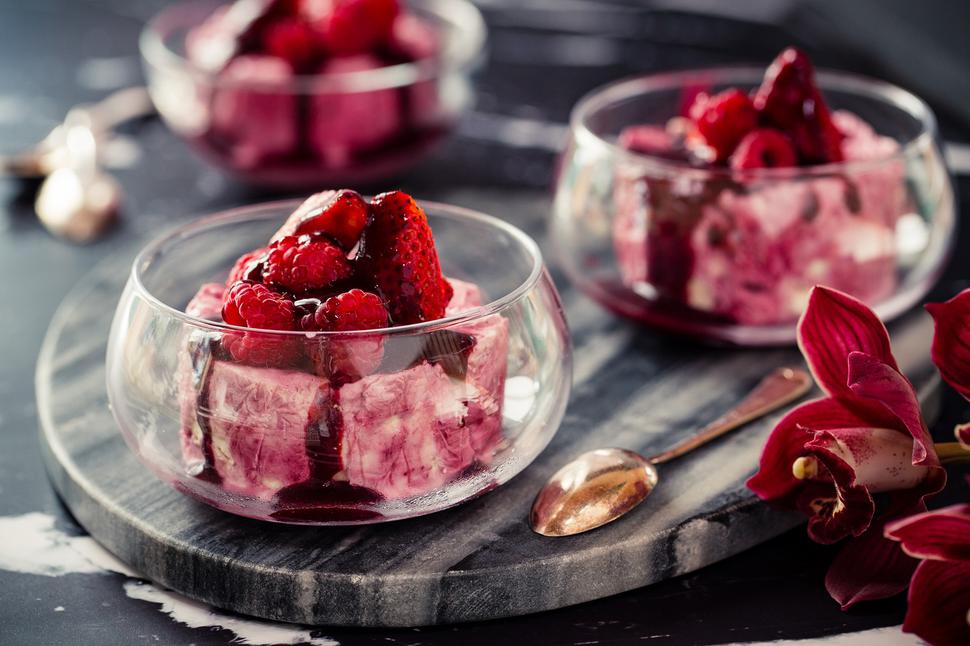 Our Most Decadent Fruit Desserts To Try
These recipes show off all that's wonderful about sweet-juicy produce
Tuesday May 11, 2021
Four-Ingredient Berry Meringue Bombs
With just four ingredients, this no-fuss treat is a winner. Garnish with berries and additional berry puree.
Kumara Waffles With Poached Fruit & Mascarpone
These waffles work just as well for dessert as for breakfast. Top them with spoonfuls of poached fruit like apples and feijoa.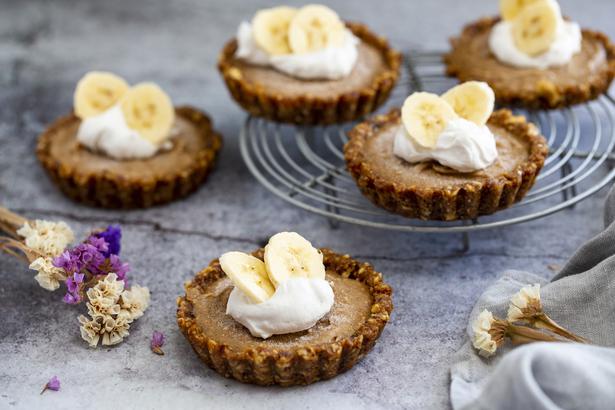 Vegan Lemon Tart With Oat Shortbread Crust
This no-bake tart, vegan-friendly tart is wonderfully bright and zesty. It also takes just 10 minutes to make.
Strawberry Tiramisu
This dessert is, quite simply, divine. Soak sponge fingers in a light homemade custard and top with a coffee-marsala mascarpone. Dust with cocoa.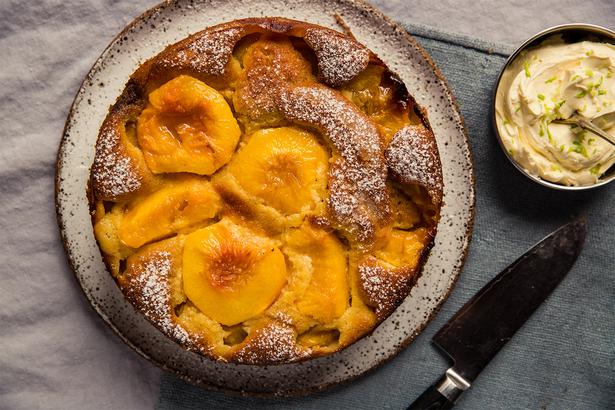 Fresh peach madiera cake. Photo / Babiche Martens

Ginger Caramel Pears With Creme Fraiche
Gently cook pears in a mixture of butter, sugar, white wine, lemon juice and ginger for a sublime dessert. Have them with a dollop of creme fraiche.

Apple Strudel With Rum Raisins & Pine Nuts
Try your hand at the quintessential winter pudding with lashings of raisins and pine nuts, and a light dough. Serve with custard.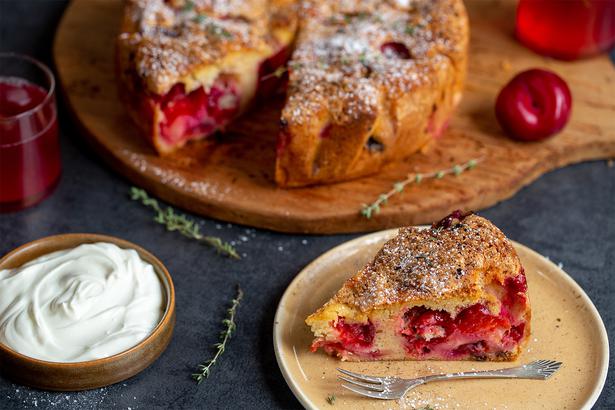 Heavenly Italian plum cake. Photo / Babiche Martens

Rustic Date & Apple Galette
Grab your Granny smith apples for this delicious, spice-filled tart best served hot with vanilla icecream.

Fresh Peach Madeira Cake
Sweet peaches shine in this madeira cake, but other seasonal fruits will work just as well, such as feijoas or pears.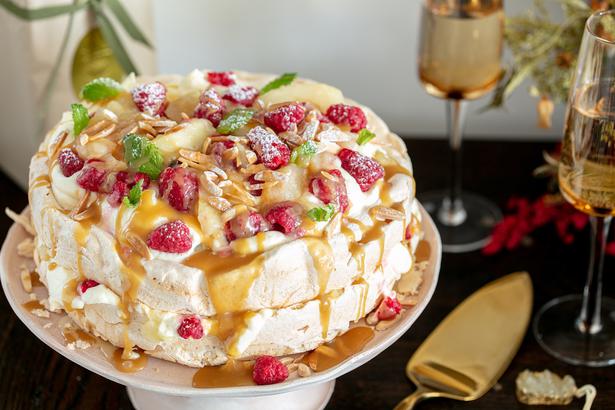 Raspberry, apple and butterscotch pavlova. Photo / Babiche Martens

Lemon Apple Sponge Cake With Lemon Curd Cream
Light-as-air and filled with apples, this cake is a perfect post-dinner treat. Add cherries or strawberries between its layers for something especially decadent.

Raspberry, Apple & Butterscotch Pavlova
Enjoy this raspberry, apple and butterscotch take on a classic. The fruit compote and butterscotch sauce can be made in advance, so prepare those a few days beforehand if time is limited.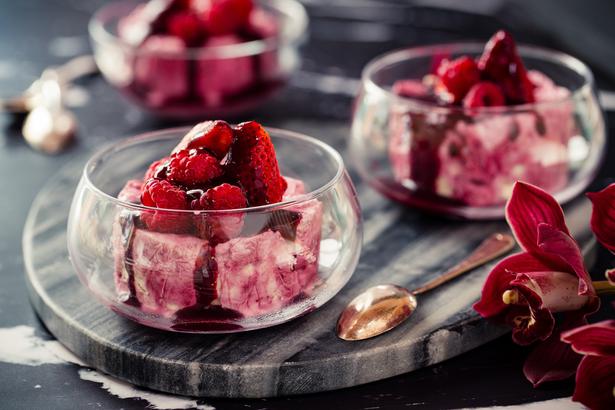 Creamy No-Churn Orange & Chocolate Icecream
No machines are required for this orange and chocolate icecream. Simply whip up the creamy mixture, pour into a container and freeze.
Raw Banoffee Pie Tartlets
These no-bake tartlets are a not-so-naughty treat comprising dried dates, almonds, cashews, and banana. Top with coconut cream and a few extra slices of banana.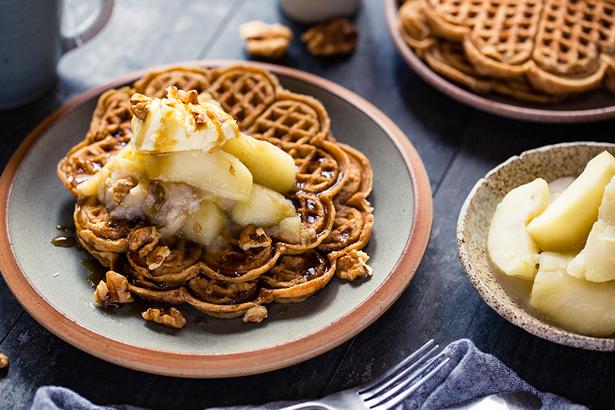 Kumara pancakes with poached fruit. Photo / Babiche Martens

Passionfruit & Lime Mousse
Savour passionfruit straight off the vine in this light limey mousse made with Greek yoghurt.

Heavenly Italian Plum Cake
Delve into the tart plums concealed in this tasty cake. Enjoy alongside rum-soaked raisins and a generous scoop of icecream.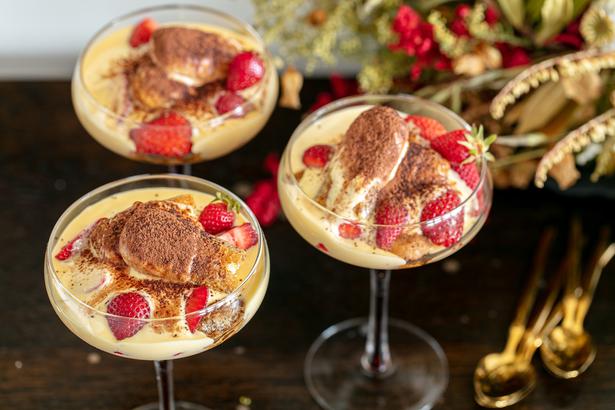 Strawberry tiramisu. Photo / Babiche Martens

Raspberry & Orange Mousse
This pink dessert is the perfect end to a date-night dinner. It's citrusy, fresh and bound to impress.

Fried Banana With Walnuts & Butterscotch
Fried banana is the ne plus ultra of last-minute desserts. Scatter with walnuts, drizzle with butterscotch and enjoy with mascarpone or whipped cream. Or try our baked banana recipe with miso, orange and pine nuts.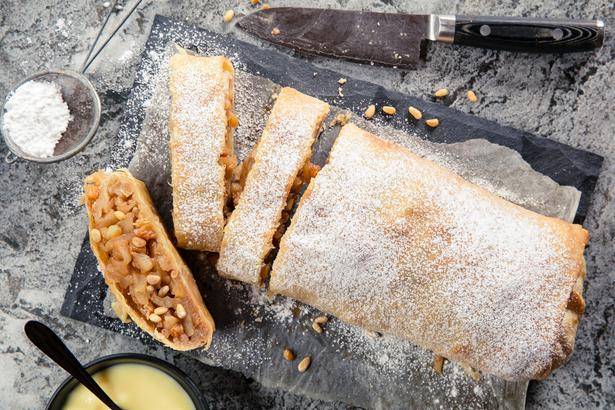 Oven-Poached Plums in Apple Juice
This quick dessert marries gorgeous, cinnamon-infused plums with vanilla icecream for a sweet (and morish) treat.
Peach & Blackberry Tarte Tatin
Try this sticky tart made with a bounty of stonefruit and filled with caramel that's an enduring, rich crowdpleaser.
Share this: