Fudgy Rocky Road Cookies Recipe
18-year-old Amelia Ferrier this week launches her debut cookbook, Melie's Kitchen. Try this recipe for rocky road cookies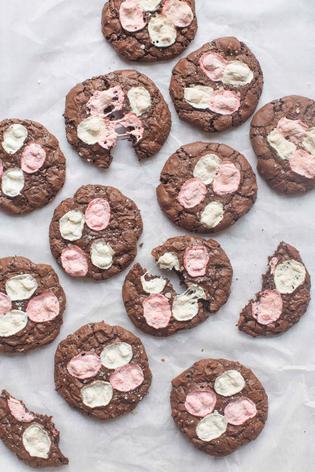 All my friends love the chewy, fudgy texture of these cookies. The cookie dough is unusual as it is made from a meringue base and has no plain flour added to it, which is what creates the fudge texture. The mini marshmallows, which are baked on top of the cookie dough, toast beautifully in the oven, giving a similar flavour to marshmallows roasted on a bonfire. To complete the rocky-road theme, chopped almonds are folded through the cookies, providing a lovely crunch to contrast with the chewy texture.
FUDGY ROCKY ROAD COOKIES
Makes 20 cookies
175g dark chocolate, chopped
3 egg whites
1 cup caster sugar
½ teaspoon vanilla bean paste
¼ cup brown sugar, lightly packed
¼ cup cocoa powder
2 tablespoons + 1 teaspoon cornflour
¼ teaspoon salt
¾ cup roughly chopped almonds
½ cup mini marshmallows
sea salt for sprinkling
1. Preheat the oven to 180°C. Line two baking trays with baking paper.
2. Put the chocolate in a heatproof bowl over a pot of simmering water. Heat, stirring every so often, until fully melted. Remove from the heat and set aside.
3. In the bowl of an electric mixer fitted with a whisk attachment, beat the egg whites until soft peaks form. Add the caster sugar and beat for 3 minutes, until well combined.
4. In a small bowl, combine the vanilla, brown sugar, cocoa powder, cornflour and salt. Add this mixture to the egg white mixture all at once and use electric beaters on a medium speed to beat until combined. Add all the melted chocolate and whisk until well combined and the mixture is thick and glossy. Stir in the almonds.
5. Scoop tablespoons of the mixture onto the prepared trays, allowing room for spread, and arrange four mini marshmallows on top of each cookie. Sprinkle with a little bit of sea salt.
6. Bake in the oven for 15–20 minutes, or until cracked on top and the marshmallows are golden. Cool on the trays for a few minutes before transferring to a cooling rack.
7. Store in an airtight container at room temperature.
8. These cookies will keep for up to a week.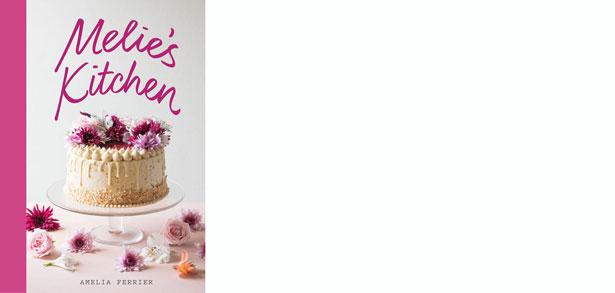 • Extracted from Melie's Kitchen by Amelia Ferrier, published by Random House NZ, $40.00, available from Collected.
Share this:
More Food & Drink / Recipes