Ful Medames Breakfast Recipe
Vanessa Lewis shares the recipe for a traditional breakfast from Jordan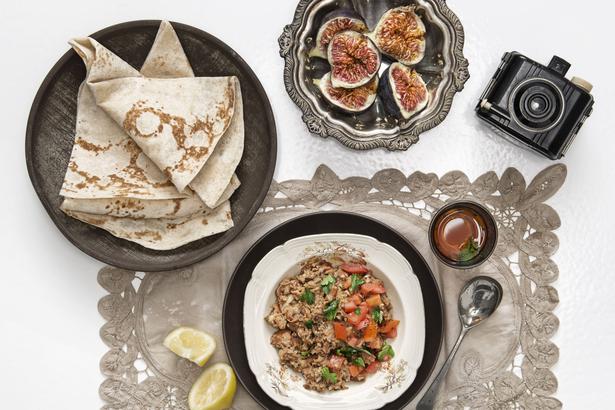 Tuesday Sept. 27, 2016
Ful (pronounced "fool") is Arabic for "beans". This dish is served all over the Middle East; sometimes the beans are left whole and served as a hearty breakfast stew with lemon and garlic, and sometimes, like in this recipe, they are mashed to a rough paste and scooped up with pita bread.
FUL MEDAMES BREAKFAST RECIPE FROM JORDAN
Vegetarian, Gluten-free
Serves 2 by itself or 4 as a dip with pita bread and other bits and pieces
410g tin fava beans (broad beans)*
2 cloves garlic, crushed
½ tsp ground cumin
Pinch of cayenne pepper
Salt and black pepper
1 lemon, zest and juice
1 tomato, chopped
Olive oil
60g (2oz) fresh parsley, finely chopped
To serve (optional):
Pita or lavash breads (gluten-free if required)
Grilled vegetables
Grilled halloumi cheese
Lemon wedges

*Substitute fava beans with butter beans for a less robust option.

1. Empty the tin of beans — including the liquid — into a large pan and bring to the boil. Turn the heat down and simmer for 10 minutes or until the beans are warmed through.
2. Remove the beans from the saucepan with a slotted spoon and reserve some of the cooking liquid. Place the beans in a large bowl and roughly mash.
3. Mix the garlic, cumin, cayenne pepper, salt and pepper, lemon zest and juice together in a small bowl. Stir the mixture into the beans. If the mixture is too stodgy, add some of the cooking water to thin it out, but be careful not to make it too mushy.
4. Transfer the beans to a shallow serving dish and top with the chopped tomato, a drizzle of olive oil and the fresh parsley. Serve with fresh and warmed pita or lavash flatbreads, grilled vegetables, grilled halloumi cheese and lemon wedges.
Share this:
More Food & Drink / Breakfast & Brunch