Gado-Gado Surubaya Recipe
This simple Indonesian salad recipe is based on a coconut peanut sauce poured over a selection of vegetables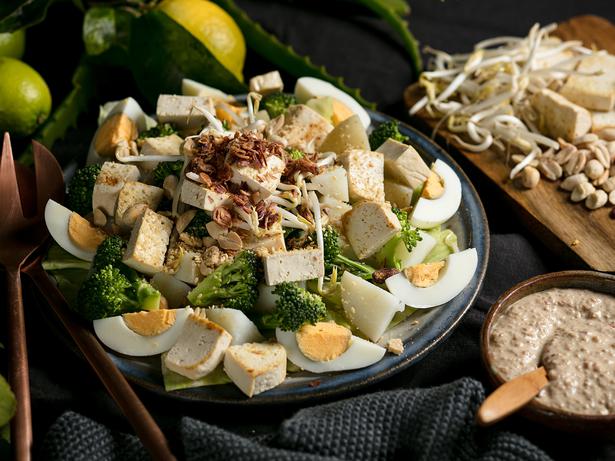 Friday Sept. 15, 2017
Gado-gado means '"mix mix'" and this Indonesian recipe, from Escape Haven's Luxe Retreat, is based on a coconut peanut sauce poured warm over a selection of fresh blanched vegetables. The crispy fried shallots on the top are a great crunchy finishing touch.
GADO-GADO SURUBAYA
Serves 6
Gado-Gado Sauce
3 cloves garlic
100g roasted peanuts
2 red chillies, chopped roughly
½ tsp shrimp paste
1 tsp coconut sugar
300ml coconut milk
Salad
4 boiled eggs
4 boiled potatoes, cut into pieces
4 cups blanched or raw vegetables such as beans, cabbage, tomatoes, cucumber
1 cup bean sprouts
200g tofu, fried
½ cup crispy shallots
½ cup coriander leaves, optional
1. Into a processor, place the garlic, peanuts, chillies, shrimp paste, coconut sugar and half the milk blitzing together. Place into a small pot and add the remaining coconut milk. Bring to a simmer for 10 minutes to reduce slightly.
2. Onto a platter, arrange the eggs, potatoes, vegetables, tofu, shallot and coriander.
3. Just before serving, pour over the warm gado-gado sauce.
• Angela Casley was a guest of Escape Haven. To find out more, visit Escapehaven.com
Share this:
More Food & Drink / Recipes