Cinnamon-Spiced Galette with Black Doris Plums Recipe
Try Eleanor Ozich's recipe for this rustic galette made with seasonal fruit - in this case, black doris plums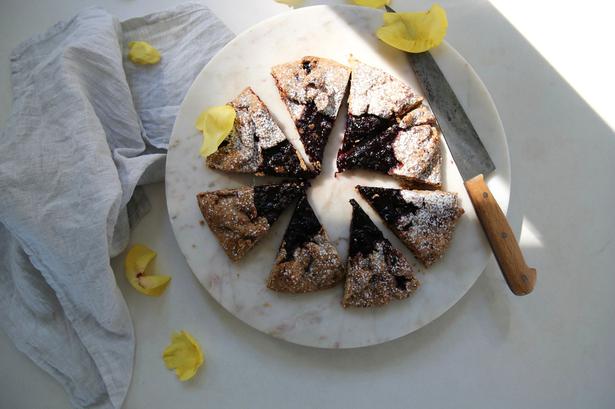 Thursday March 2, 2017
CINNAMON-SPICED GALETTE WITH BLACK DORIS PLUMS RECIPE
Recipe makes two galettes, to feed 4 each, or you could make one large galette to feed 8

This is a rustic dessert that is nevertheless elegant at the same time, and is one of those wonderfully adaptable recipes that makes use of whatever fruit is in season. On this occasion, I've married boysenberries with black doris plums. It's lovely served with thick double cream, or a scoop of vanilla icecream.
INGREDIENTS
For the fruit filling
1 cup boysenberries
1 cup black doris plums, stones removed and roughly chopped
4 Tbsp honey, or pure maple syrup
1 tsp pure vanilla bean paste
Juice of half a lemon
For the pastry
200g unsalted butter, chilled and diced
2 cups wholemeal spelt flour, plus extra for kneading
½ cup coconut, rapadura or light muscovado sugar
½ cup natural greek yoghurt
A pinch of sea salt
To finish
¼ cup milk for brushing
Cinnamon for sprinkling
METHOD
1. Place the fruit filling ingredients in a saucepan over medium heat. Cover with water, and then simmer on low, until soft, tender and syrupy, about 25 minutes. Add the lemon juice, and stir to combine.
2. To make the pastry, combine the butter, flour and sugar in a food processor and pulse until the mixture resembles breadcrumbs.
3. Add the yoghurt and salt, then continue to pulse until the dough begins to come together into a ball. Place the dough in the fridge to rest for 10-15 minutes.
4. Pre-heat the oven to 180C.
5. Divide the dough in two. Using a lightly floured rolling pin, roll out the pastry on a piece of baking paper in to a rough circle, about 5mm thick. Top with the fruit filling, leaving a border around the edges. Fold the pastry border up over the fruit, brush the edges with a little milk and sprinkle with cinnamon.
6. Bake for 30-35 minutes, or until golden.
Share this:
More Food & Drink / Recipes