Gareth Stewart's Leek and Potato Soup Recipe
The executive chef of the Nourish Group shares his recipe for a simple leek and potato soup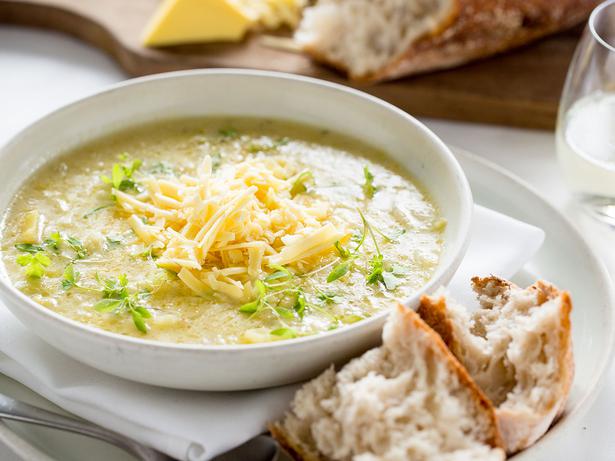 Wednesday June 7, 2017
"All credit for this soup goes to my mum Lynn Stewart," explains Gareth Stewart, the executive chef of the Nourish Group restaurants including Euro, The Culpepper and Jervois Steak House. "This is the most simple soup recipe out there, but so delicious and filling. Mum would make this on cold afternoons and serve it with heaps of grated cheese on top. The soup is chunky and very rustic. You cannot try to refine this recipe too much as it is what it is - a thick winter warmer that is cheap and easy to make.
"You can warm some bread to go with this melting soup or another perfect accompaniment is a warm cheese scone - another one of my mum's great bakes."
GARETH STEWART'S LEEK AND POTATO SOUP
Makes 1 large pot; enough for a family of 4, with some leftovers for lunch the next day.
1 large onion diced
2 large leeks, washed and diced into a rough
large dice
2 cloves of garlic
3 Tbsp olive oil
Salt and pepper
4 large potatoes, peeled and roughly diced
1.5 litres of chicken stock
300ml of milk
60g of grated cheese per person
1 sprig of thyme, leaves picked and chopped
Chive batons or parsley cress for garnish
1. Sweat the onion, leeks and garlic in olive oil until the onion is soft and sweet but has no colour. Season with salt.
2. Add the diced potato and continue to cook for another 3-4 minutes.
3. Top up with the chicken stock and bring to a simmer. Cook for 15-20 minutes or until the potatoes are just cooked. Then add the milk and bring back to a simmer.
4. Smash the soup using a whisk like a potato masher until the soup starts to come together as the smashed potato thickens it. There should be plenty of large pieces of broken potato bound now with a creamy soup.
5. Adjust the seasoning with salt and pepper and serve. While the soup is hot, top up with grated mature cheddar cheese, a few more twists of pepper and the thyme. You could also at this stage add a few chive batons or parsley cress for a bit of green.
Share this: