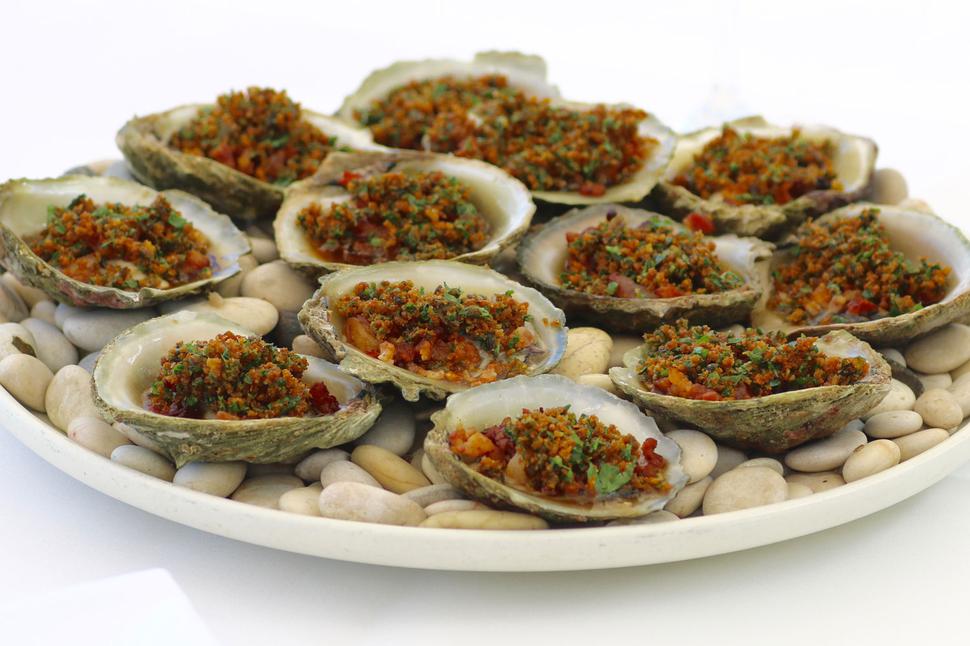 Gareth Stewart's Oysters Kilpatrick
Celebrate the start of the Bluff oyster season with this delicious recipe
Tuesday March 6, 2018
Last week we were lucky enough to devour some of the first Bluff oysters of the season at Euro Restaurant, prepared many different ways. One of our favourites was with the rich flavours of oysters Kilpatrick by Nourish Group's executive chef Gareth Stewart, which he's shared with us below.
GARETH STEWART'S KILPATRICK OYSTERS
Makes 12
2 Tbsp unsalted butter
3 shallots, finely diced
2 slices stale bread
4 Tbsp chopped flat-leaf parsley
1 Tbsp canola oil
4 rashers streaky bacon, sliced into matchsticks
12 Bluff oysters in the shell
1 cup rock salt, to serve
12 Tbsp Worcestershire sauce
READ: Gareth Stewart's Leek and Potato Soup Recipe
1. Pre-heat the oven to 180C.
2. Melt 1 tablespoon of the butter in a large frying pan over medium heat, then cook the shallots for 10-15 minutes or until soft and sweet. Season with salt and pepper to taste and set aside.
3. Pulse the sliced bread in a food processor to make breadcrumbs. In a clean frying pan, melt a further tablespoon of butter then fry the crumbs until golden and crispy. Strain through a sieve then drain on paper towels. Once cool, stir in the parsley and set aside.
4. Heat the oil in a frying pan then fry the bacon until crispy. Strain through a sieve then drain on paper towels.
5. Open the oysters and detach each oyster from its shell, keeping them lying in the shells. Arrange the rock salt on a baking tray then put the oysters in their half-shells on the salt, to keep them upright.
6. Divide the Worcestershire sauce and the cooked shallots evenly among the oysters and bake in the oven for 6 minutes. When the oysters are hot, spoon over the crispy bacon and the parsley crumb and serve immediately.
Share this:
More Food & Drink / Recipes