Garlic and Thyme Chicken Recipe with Cauliflower Couscous
Try this family-favourite recipe by Eleanor Ozich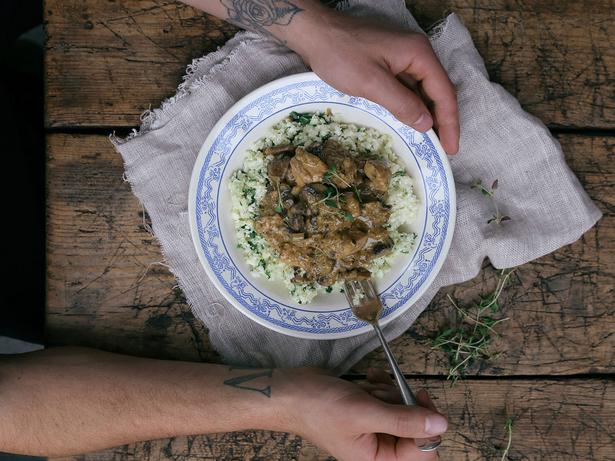 Thursday June 2, 2016
I've been making this dish for my husband for a number of years now. It's his absolute favourite, and if I am being honest, it's pretty damn delicious. The chicken is rich and tender, served upon a light, herby cauliflower couscous, perfect for mopping up the sumptuous sauce. A beautiful dish, bound to give you great happiness. 

GARLIC AND THYME CHICKEN RECIPE WITH CAULIFLOWER COUSCOUS
Serves 4
• 2 Tbsp butter
• 4 garlic cloves, roughly chopped
• 1 brown onion, diced
• 50g pancetta or prosciutto, roughly sliced
• 500g chicken breasts, cut in to cubes
• a handful of fresh thyme leaves, finely chopped
• 1 cup white wine
• 1 cup good-quality chicken stock
• 1 cup cream
• juice of ½ lemon
For the cauliflower couscous:
• 1 cauliflower, broken into florets
• a large handful of flat-leaf parsley, finely chopped
• juice of 1 lemon
• ¼ cup extra virgin olive oil
1. In a large frying pan over medium heat, melt the butter until sizzling. Add the garlic and onion and sauté until the onion is translucent. Add the pancetta and fry for a minute or so, until slightly crispy.
2. Add the chicken, thyme and a pinch of freshly ground black pepper, then continue to cook until the chicken is browned all over.
3. Stir in the wine, and simmer until all the liquid has evaporated. Pour in the stock, then turn down the heat to low and allow to simmer for ten minutes or so.
4. Meanwhile, prepare the cauliflower couscous. Place the cauliflower in a food processor and pulse to a rice-like consistency. Transfer to a heatproof bowl, cover with boiling water and leave to blanch for 1 minute. Drain immediately.
5. Toss the cauliflower in a bowl with the parsley, lemon juice, olive oil and a pinch of sea salt and freshly ground black pepper
6. Lastly, pour the cream into the pan and bring to a soft boil.
7. Remove from the heat, then stir the lemon juice through. Serve with the cauliflower couscous.

• For more from Eleanor Ozich see petite-kitchen.com
Share this:
More Food & Drink / Recipes