Garlic Puree with Roast Baby Vegetables Recipe
Pretty and punchy, this garlic puree is easy to make and goes with so many dishes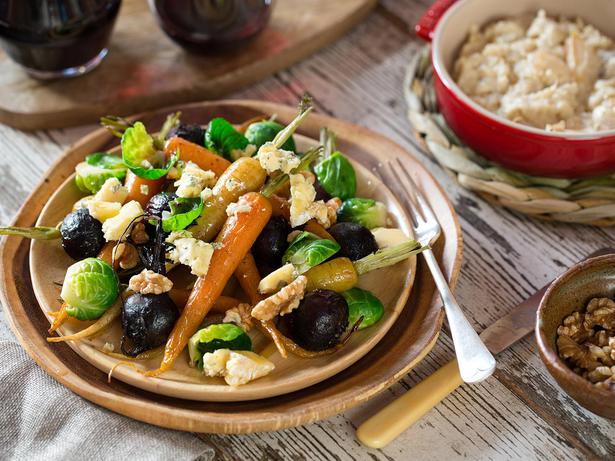 Friday July 7, 2017
A pretty and punchy garlic puree which is easy to make and goes well with so many dishes. A dollop on top of a steak, chicken breast or, as here, smeared over some roasted baby vegetables. The almonds and blue cheese are the finishing touch to really lift this dish.
GARLIC PUREE WITH ROAST BABY VEGETABLES RECIPE
Serves 4
2 heads garlic, cut in half horizontally
1 Tbsp olive oil
1 Tbsp horseradish
2 Tbsp sour cream
Salt and pepper
1 bunch baby carrots
6-8 baby beetroot
10 brussels sprouts, cut in half
50g crumbled blue cheese
½ cup roughly chopped almonds
1. Preheat an oven to 170C.
2. On to a large piece of tinfoil place the garlic. Drizzle over the oil. Scrunch the tinfoil together and place into the oven for 40 minutes. Remove and allow to cool. Squeeze the garlic from the bulbs into a small bowl. Stir through the horseradish and sour cream. Season with salt and pepper.
3. Place the baby vegetables on a large baking tray. Drizzle over a little oil and bake for 30 minutes or until soft when tested with a skewer. Add the sprouts and cook for another 10 minutes.
4. Serve the vegetable with a dollop of garlic puree, blue cheese and sprinkle of nuts.
Share this:
More Food & Drink / Recipes