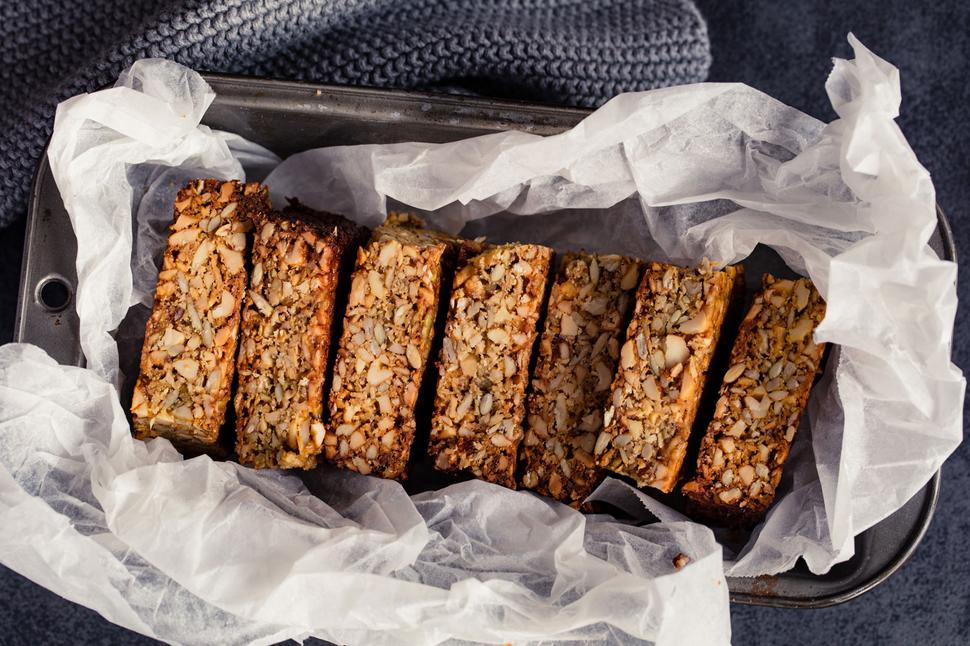 Georgia's Malt Syrup Nut Slice
Flourless and dairy-free, this simply delicious slice has it all going on
Friday July 27, 2018
My niece came to stay recently and introduced us to this nutty slice recipe, her go-to for a great snack. The only problem is, it was so good that it kept disappearing. I've called it Georgia's Slice in her honour. It made a pleasant change from my baking, which usually starts with creaming butter and sugar. It has now become a Sunday ritual to make it for the week ahead.
GEORGIA'S MALT SYRUP SLICE RECIPE
Makes 20 pieces
1½ cups raw cashews
½ cup almonds
½ cup sunflower seeds
½ cup pumpkin seeds
½ cup desiccated coconut
½ cup oats
2 Tbsp ground linseeds
½ tsp cinnamon
½ cup malt syrup
½ cup coconut oil
1 tsp vanilla
1. Preheat an oven to 170C. Line a 20x20cm tin with baking paper.
2. Into a food processor place the cashews, almonds, sunflower seeds, pumpkin seeds, coconut, oats, linseeds and cinnamon.
3. In another small bowl place the malt syrup, coconut oil and vanilla and place into the microwave for 45 seconds to melt the oil. Add to the dry ingredients then blitz a couple of times to combine. Press the mixture evenly into the tin.
4. Place into the oven for 45 minutes. Remove and cool for 20 minutes before cutting into squares. Store in an airtight container.
Share this: