Meet Gin Master Desmond Payne
Beefeater's master distiller Desmond Payne tells Viva why gin is so hot right now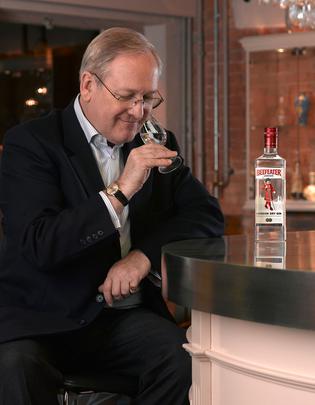 Premium is where it's at. Cocktail drinkers are becoming increasingly discerning, and we have innovative bartenders to thank, says Beefeater's Desmond Payne.
"This generation is at the top of their game," says the master distiller, who has been making gin for 50 years. "The top bartenders of today are better than the originals from 150 years ago. They're so innovative and proud of their craft. They're also moving around a lot like top chefs."
The London-based gin-maker flew into New Zealand for a whirlwind trip last week to judge the MIXLDN Global Bartender Competition. This year the theme was iconic London films, a nod to Beefeater's heritage. Winner, Aucklander Madeleine Tate, whose Mary Poppins-inspired cocktail 'The Chimney Sweeper' took out the top prize, will fly to London in February to compete against 31 nationalities; the grand winner gets to concoct a new gin with Desmond himself.
TRY: Madeleine Tate's Award-Winning Black Gin Cocktail Recipe
It'll have to stand out to compete on the shelf, though. A recent trip to a bar in Valencia, Spain, where gin and tonics are practically the national tipple, put Desmond face to face with 624 varieties. Elsewhere, gin is fast gaining steam, with sales rising 16 per cent in the UK and 49 distilleries opening this year.
Desmond puts its resurgence down to several factors: the cyclical nature of fashion — we don't necessarily want to drink what our parents did — but also that it's versatile. Unlike whisky or rum, which are made from single ingredients (grain, sugar cane), gin can be made with a combination of juniper berries and anything else to make up its flavour profile, in Beefeater's case, coriander seed, orange and lemon peels and angelica, among others.
VISIT: The Juniper Room gin cocktail pop-up bar
That provides a broad canvas for mixologists, who can pick out an individual botanical to enhance. Madeleine's winning drink, for instance, was soot-black with creamy egg white and a daisy on top, and featured both lemon juice and the bittersweet orange flavour of Amaro Montenegro. "It tasted delicious," says Desmond. "It had sherry in it, which gave it a lovely richness."
Desmond started off in the wine trade, working at Harrods before getting a job with a gin company. These days his primary job is to maintain the consistency and quality of the original 1860 recipe set down by founder James Burrough. In recent years he's also developed Beefeater's premium offerings.
Desmond is most proud of his first baby, Beefeater 24, so named as the gin is steeped for 24 hours before distillation in nontraditional botanicals such as Chinese green tea, Japanese sencha tea and grapefruit peel. His limited edition Crown Jewel variety has also proved popular. Incorporating a new botanical is like introducing a new member to a family, he says.
READ: Where to find Auckland's Best Gin Cocktails
"Some families everyone gets on and it's fine but it has to be accepted. It will change the relationship with everybody else. That's how I understand flavours."
When he's not travelling, he spends time in the Lambeth distillery, along with his staff of five, who produce the equivalent of a bottle of gin a second — that's 2.7 million cases of 12 bottles.
His role also involves the buying process. Consider-ing his main concern is consistency, that can be difficult when faced with environmental concerns; for instance, Beefeater's juniper berries come from Italy, where recent earthquakes have caused issues accessing crops. He'll then look at 200 samples and decide which he'll use in this year's blend.
He's also developing a new gin with 3-Michelin star Spanish chef David Munoz. It doesn't leave much time for a break, but when that happens? It's either a gin and tonic, a Negroni or a Gibson martini (garnished with a pickled onion). "The more competitions I judge, the more I see the creative way bartenders are making drinks and balancing flavours. It's just wonderful. I'm so impressed by what they're doing."
Share this:
More Food & Drink / Wine & Drink