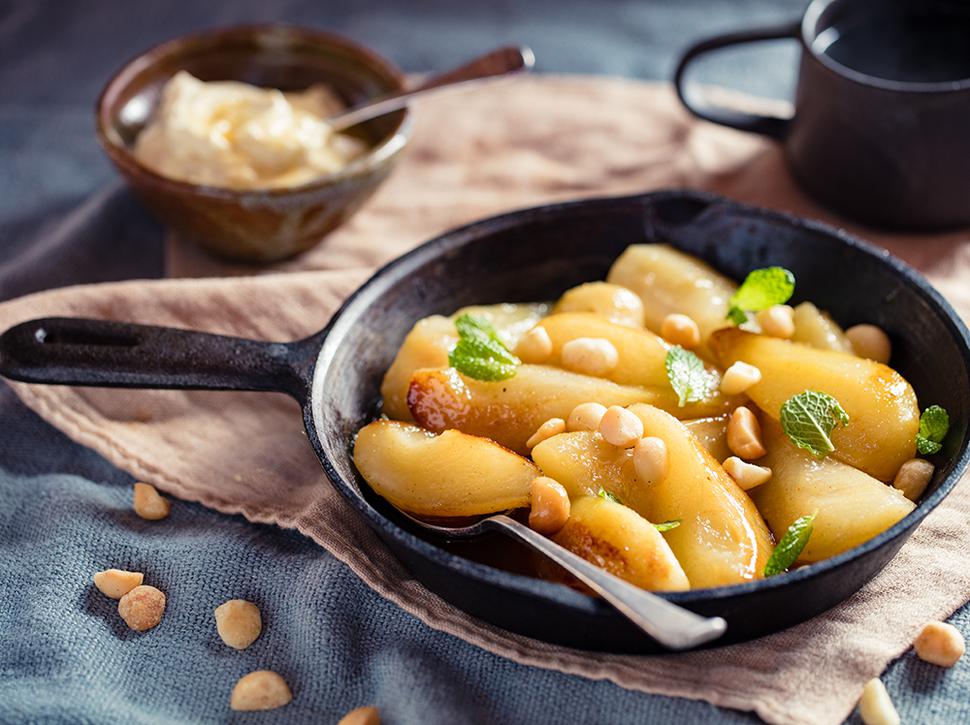 Ginger Caramel Pears With Creme Fraiche
Give the humble pear a chance to shine with this seriously delicious dessert
Friday Aug. 31, 2018
Pears are under-rated, they genuinely need a little publicity. Add them to your lunchbox instead of an apple or mandarin, or use them in a dessert. I will often grab a few while shopping to add to the fruit bowl and more often than not I'm the only one who eats them. But fry them up and turn them into a scrumptious dessert and suddenly there is a demand for more. If there is no creme fraiche to fold through, lightly whipped cream will do.
GINGER CARAMEL PEARS WITH CREME FRAICHE RECIPE
Serves 4
20g butter
100g caster sugar
½ cup white wine
¼ cup lemon juice
½ tsp ground ginger
3 pears, peeled and quartered
¼ cup toasted macadamia nuts
150g creme fraiche
1. Melt the butter in a heavy-based frying pan. Add the caster sugar, wine, lemon juice and ginger, stir gently and continue to slowly bring to a simmer. It will slowly turn a caramel colour.

2. Add the pear quarters. Cook for 20 minutes and turn gently every few minutes. Remove from the heat and cool.

3. Before serving, fold 2 tablespoons of the caramel through the creme fraiche.

4. Top with nuts and serve with a dollop of the caramel creme fraiche mixture.
Share this:
More Food & Drink / Recipes