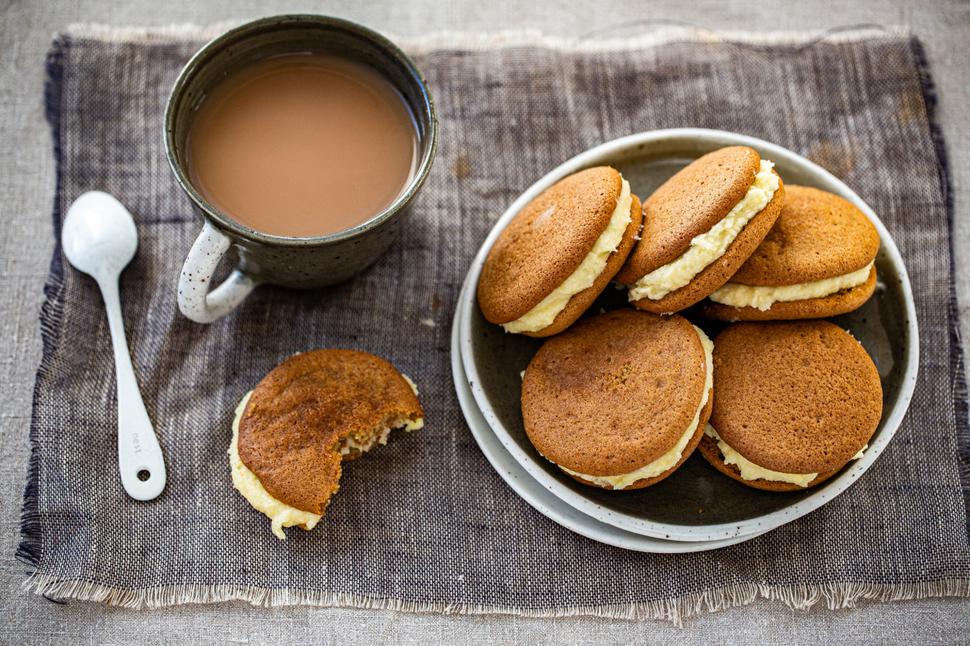 Ginger & Lime Kisses Recipe
Something to go with your morning coffee or a sweet treat after dinner
Thursday June 25, 2020
Making mini kisses is an option here. But it will mean you will just go back for more. These are my favourite, going well with morning coffee, a cuppa or a sweet treat after dinner. The lime and rum flavour will get only better with time.
Ginger & Lime Kisses 
Makes 12

Kisses
80g softened butter 1/2 cup caster sugar
2 Tbsp golden syrup 2 eggs
3/4 cup flour
1/2 cup self-rising flour
2 tsp ground ginger
1 tsp ground cinnamon
1/4 tsp baking soda

Filling
80g softened butter
50g cream cheese, at room temperature 1/2 tsp vanilla essence
1/4 cups icing sugar
1 tsp finely grated lime zest
2 tsp rum or 1 tsp rum essence

1. Preheat an oven to 170C. Line two trays with baking paper.
2. Beat the butter, sugar and golden syrup until light and fluffy. Add the eggs one at a time, beating well.
3. Combine the flours, ginger, cinnamon and baking soda in a bowl. Add half to the egg mixture, beating through, then the remainder until well combined. You may need to finish mixing by hand.
4. With a dessertspoon, spoon onto the baking paper, keeping a 4cm gap between each. For even cooking, bake one tray
at a time for 18 minutes until light and spongey to touch. Leave to cool before moving to a rack.
5. For the filling, beat the butter, cream cheese and vanilla until smooth. Add the icing sugar, zest, and rum if using. Sandwich the kisses together with two teaspoons of filling and store in an airtight container. Do not stack or they will stick together.
Share this: