Apricot and Ginger Pudding Recipe
This apricot and ginger pudding is moist and delicious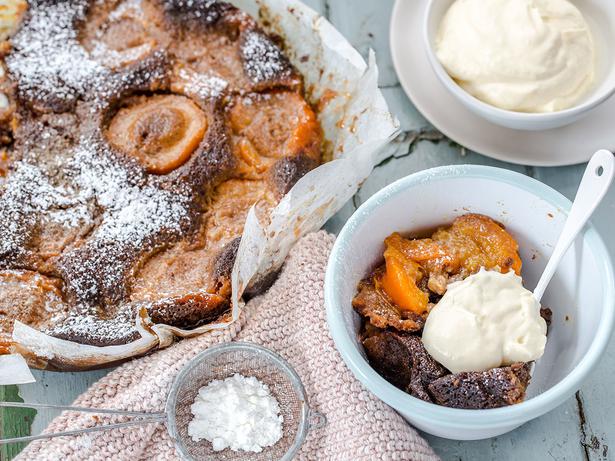 Friday Feb. 24, 2017
This apricot and ginger pudding is moist and delicious, hot or cold, and you can change the fruit depending on the season. Pears, plums or apples will make a tasty pudding. Find stem ginger in jars at your local supermarket.
APRICOT AND GINGER PUDDING RECIPE
Serves 6-8
180g caster sugar
6-8 apricots, halved stones removed
3 pieces stem ginger, sliced
60g butter
40g muscavado sugar
1 Tbsp grated fresh ginger
1 tsp cinnamon
¼ cup milk
1 egg
½ tsp baking soda dissolved in ¼ cup warm water
1 cup plain flour
Icing sugar to dust
Lightly whipped cream to serve
1. Preheat oven to 180C. Lightly grease a 22cm ovenproof pudding dish.
2. Place caster sugar in a heavy based pan and melt slowly until caramelised and golden. Pour into the base of your baking dish.
3. Place apricots on top of the caramel and dot over the stem ginger.
4. Melt butter, sugar, ginger and cinnamon, in a saucepan and allow to cool.
5. Whisk milk and egg together. Add baking soda dissolved in water. Pour mixture into butter, then fold through flour. Pour on top of apricots. Bake for 50 minutes or until just set. Remove and serve warm with a dusting of icing sugar and dollop of whipped cream.
Share this:
More Food & Drink / Recipes