Gluten-Free Banana Pikelets Recipe with Coconut Yoghurt
These simple pikelets are great way to start experimenting with gluten-free products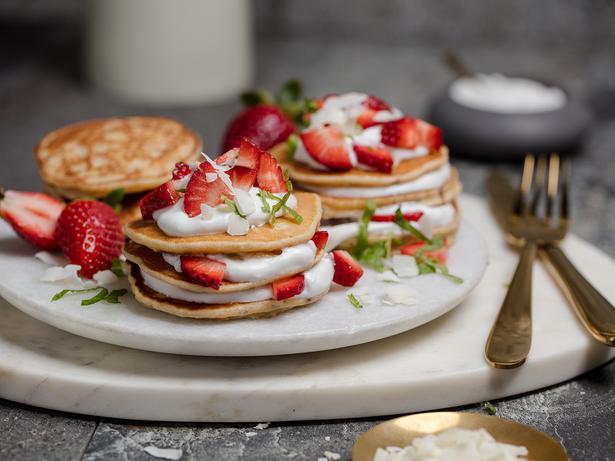 Wednesday Aug. 16, 2017
Simple cooking is a great way to start experimenting with gluten-free products. Not only is the combination of coconut yoghurt and fruit with these banana pikelets unbelievably tasty, they look amazing. Coconut yoghurt makes such a divine change from cream or Greek yoghurt.
GLUTEN FREE BANANA PIKELETS RECIPE WITH COCONUT YOGHURT
Makes 12
1 cup self-raising gluten-free flour
2 Tbsp sugar
1 banana, mashed
1 egg
1 Tbsp coconut oil
1½ cup almond milk
1 cup coconut yoghurt
Strawberries, diced to serve
Garnish with coconut flakes
1. Into a large bowl, place the flour and sugar. In another bowl, mix the banana, egg, coconut oil and milk. Pour into the middle of the flour and whisk until smooth.
2. Wipe the base of a frying pan with a little extra coconut oil. Place a large spoon of batter into the pan, cooking the pikelet for 2 minutes, then flip for a further 2 minutes. If the temperature of the pan is correct, continue to cook the remainder.
3. Serve fresh in a stack with coconut yoghurt, strawberries and a sprinkle of coconut flakes.
Share this: