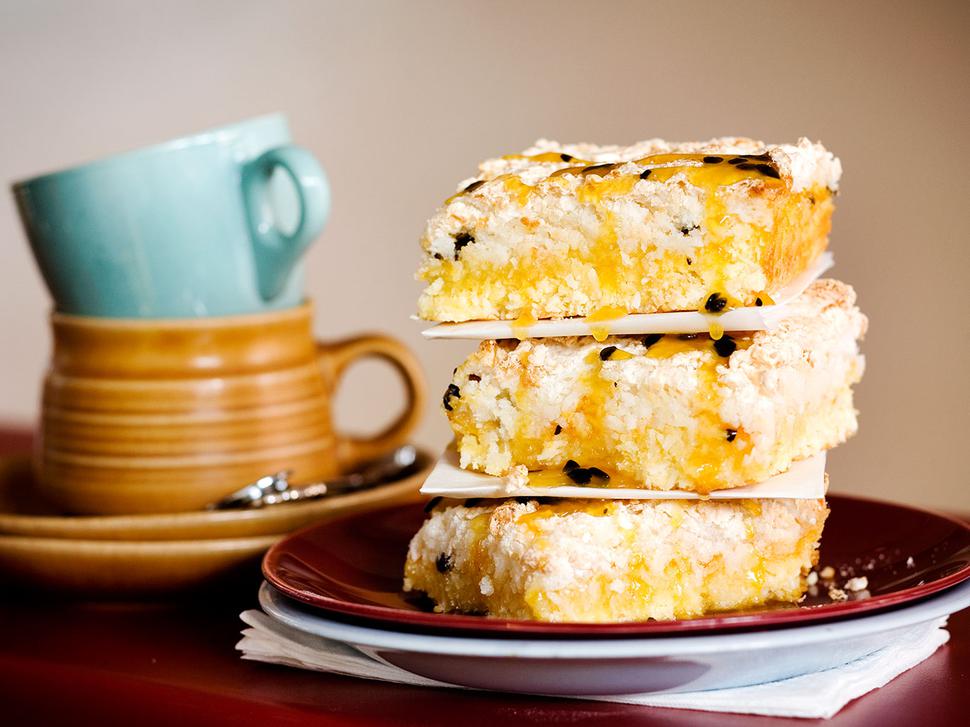 Gluten-free Coconut and Passionfruit Slice Recipe
Try Amanda Laird's summery slice
Monday Aug. 4, 2014
GLUTEN-FREE COCONUT AND PASSIONFRUIT SLICE RECIPE
Serves 8-12
Base
• 120g desiccated coconut
• 80g rice flour
• 4 Tbsp caster sugar
• ¼tsp salt
• 2 tsp gluten-free baking powder
• 100g ground almonds
• 2 egg yolks, lightly beaten
• ½ cup passionfruit pulp, plus extra to drizzle
• 1/3 cup milk
• 1 tsp vanilla extract
Topping
• 2 egg whites
• ¼ cup caster sugar
• 80g desiccated coconut
• 40g rice flour
• Passionfruit pulp
• 50g ground almonds
• Gluten-free icing sugar
1. Preheat the oven to 180C. Grease or line a baking tray.
2. Combine all the base ingredients together the press gently into the baking tray.
3. Whisk the egg whites until stiff. Add the caster sugar 1 Tbs at a time while continuing to beat - until the egg whites are glossy.
4. Gently fold through the coconut, rice flour, passionfruit and almonds.
5. Spoon the topping over the base and bake for 25 minutes. When cool, drizzle with the extra passionfruit pulp and dust with icing sugar.
Share this:
More Food & Drink / Recipes