Gluten-Free Vegan Pad Thai Salad Recipe
Mark Coeliac Awareness Week with this delicious recipe for gluten-free pad thai salad by Wise Cicada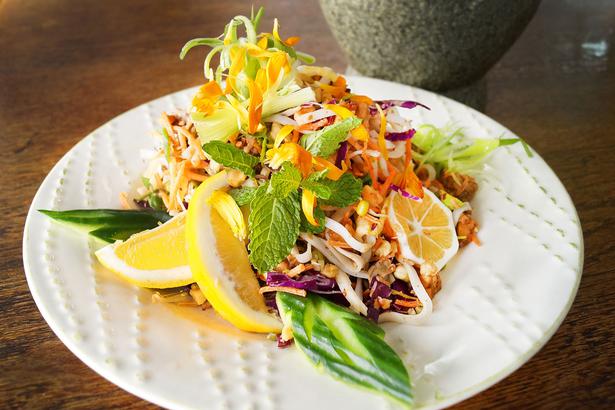 Monday May 15, 2017
GLUTEN-FREE VEGAN PAD THAI SALAD RECIPE
Wise Cicada's organic vegan pad thai salad is perfect for a shared lunch during Coeliac Awareness Week (May 15-21). Recipe by chef Mailn Andersson.
SALAD INGREDIENTS
1/2 packet organic tempeh (cubed and marinated in organic tamari)
100g wide rice noodles (or your preferred raw vegetable noodle choice)
1 organic carrot (grated)
½ medium organic red cabbage (shredded)
4 organic spring onions (sliced)
1 cup sprouted organic mung beans
½ cup roasted organic peanuts (crushed)
½ cup fresh organic coriander (chopped)
Zest from one organic lime 
DRESSING INGREDIENTS
¼ cup organic tahini
¼ cup organic almond butter
¼ cup organic tamari
1/8 cup organic dates (soaked and pureed)
1/8 cup organic lime Juice
1 clove organic garlic (minced)
1 tsp spray-free fresh ginger (grated)
METHOD 
1. Heat a frying pan, add organic oil of choice and fry until tempeh is golden brown. Cool down.
2. Bring water to boiling point, take off the heat. Soak the rice noodles in the water for seven minutes. Rinse with cold water.
3. Blend together ingredients for dressing.
4.  Mix all ingredients together with your dressing. 
5. Chill and serve cold. 
Be inspired by the good things in life. Sign up now to receive emails from Viva, and twice a week you will be sent the latest news, profiles, videos, fashion shoots, competitions and more.
Share this:
More Food & Drink / Recipes