Goat's Cheese Arancini Balls Recipe
These tasty arancini balls are perfect for a evening canape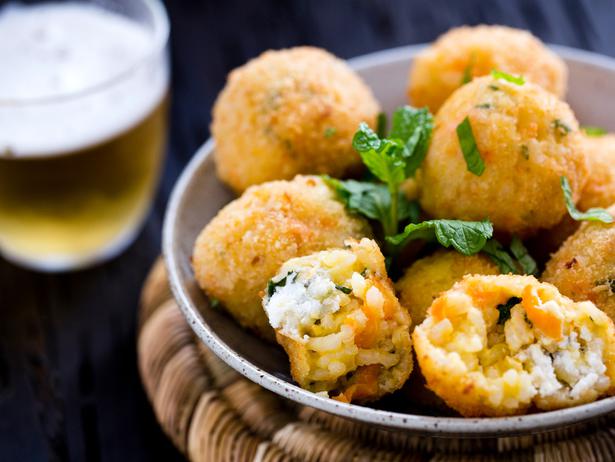 Wednesday Aug. 20, 2014
GOATS' CHEESE ARANCINI BALLS
Makes 20
2 Tbsp olive oil
1 onion, chopped
2 cloves garlic, crushed
1 cup arborio rice
½ cup white wine
2 cups grated carrot
1 litre hot chicken stock
½ cup grated parmesan
1 Tbsp butter
120g goat's cheese, crumbled
½ cup chopped mint
Salt and pepper to season
2 eggs, whisked
2 cups breadcrumbs
Oil for cooking
1. Heat oil in a heavy based pot. Add onion and garlic. Cook for 2 or 3 minutes until soft but not brown. Add the rice and toast in the oil for 2 minutes. Add the wine and allow it to be absorbed. Stir through the carrot.
2. Start adding the hot stock a cup at a time allowing it to be absorbed after each addition. Continue until the stock has all gone and the rice is cooked. Stir through the parmesan and butter. Place the risotto in a bowl, cover and allow to cool completely.
3. Gently stir through the goat's cheese and mint. Season with salt and pepper. Roll the mixture into 20 even-size balls.
4. Dip in egg and breadcrumbs, and set aside in the fridge until ready to cook.
5. Three-quarter fill a medium-size pot with oil. Heat until a small piece of bread dropped in will float to the surface. Cook the arancini balls a few at a time. They will take 3 or 4 minutes or until crispy golden.
6. Serve hot. Delicious with garlic aioli.
Share this:
More Food & Drink / Recipes