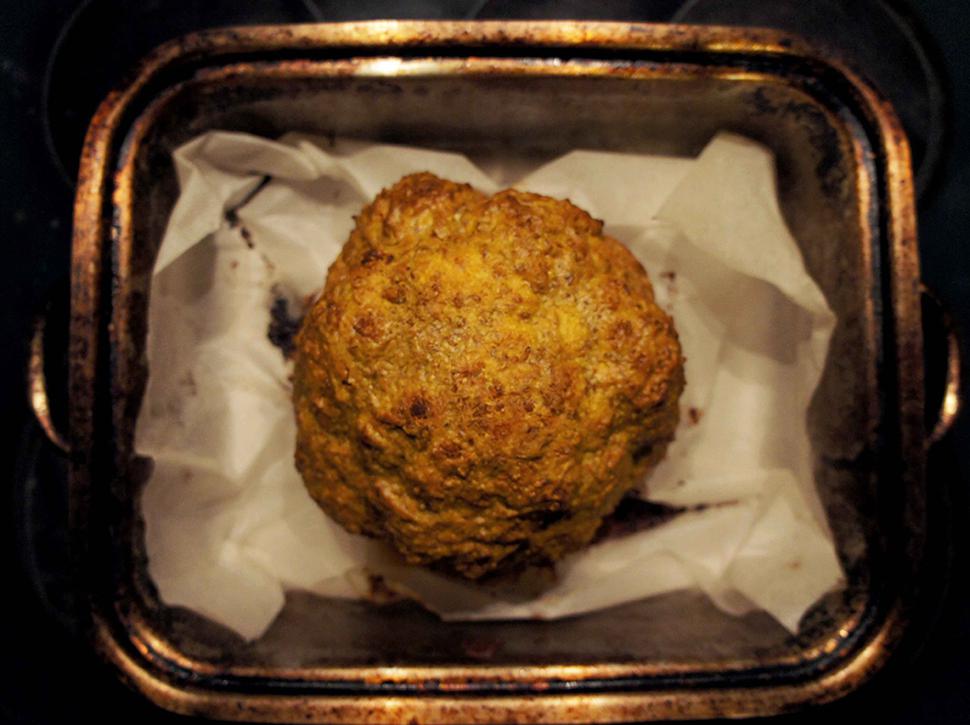 Dirt Cookbook's Golden Cauliflower With Baba Ganoush, Herb Oil & Seeds
Spice up the humble cauliflower in this golden oven-roasted recipe from new cookbook Dirt
Wednesday Dec. 19, 2018
In this dish, the cauliflower is front and centre. Smothering it liberally with the tahini sauce creates a golden crust when cooked. The hot, crusty cauliflower is cut to reveal a buttery-smooth inside. The heady smoke of the baba ganoush is the perfect accompaniment, heightening the velvety texture of the cauliflower. The seeds will give the light relief of crunch and the herb oil adds vibrancy. When serving, place the cauliflower in the middle of the table with great pride. — Gemma Walsh  
GOLDEN CAULIFLOWER RECIPE
Serves 4
1 large cauliflower
3 Tbsp tahini
½ tsp ground turmeric
1 lemon, juice
1 Tbsp olive oil
1 Tbsp cumin seeds
1 Tbsp coriander seeds
Baba ganoush
2 eggplants
1 clove garlic 
1 tsp smoked paprika 
½ lemon, juice 
2 Tbsp tahini
Herb oil
A handful parsley
A handful coriander
1 red chilli, finely sliced 
5 Tbsp good quality extra virgin olive oil
1 lemon, zest and juice
¼ cup pumpkin or sunflower seeds, toasted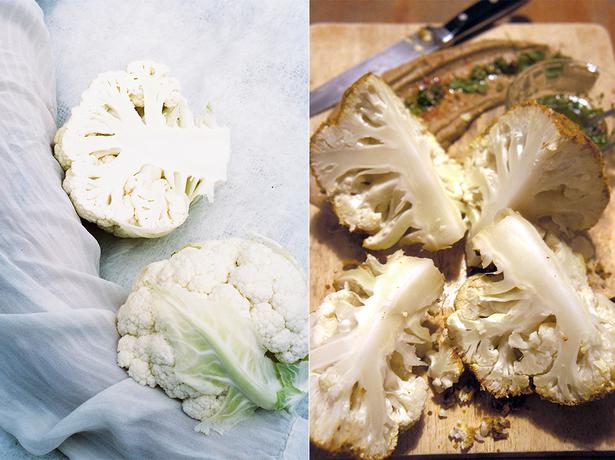 For the cauliflower 
1. Preheat the oven to 180C.
2. Place tahini, turmeric, lemon juice and olive oil in a bowl.
3. Toast the cumin seeds and coriander seeds in a dry pan until fragrant.
4. Bash in a mortar in pestle and add them to the bowl with the spiced tahini sauce.
5. Stir well to combine and add a little water to loosen the mixture if necessary. You want a thick, spreadable paste. Taste and season.
6. Remove the outer leaves of the cauliflower.
7. Pour the spiced tahini sauce over the cauliflower and, using your hands, spread the paste evenly over the entire cauliflower. Be sure not to miss any little crevices.
8. Place the cauliflower on a baking tray and cover it with tin foil. Bake for 50 minutes then remove the foil and bake for a further 15 minutes or until the cauliflower is tender and buttery.
For the baba ganoush 
1. Violently prick the two eggplants all over with a fork, then place the eggplants directly on a gas flame to cook. Allow them to soften and char on all sides, rotating using tongs.
2. Take your time here; you want the flame to permeate its smoky scent into and under the skin of the eggplant.
3. Once blackened, set them aside to cool. Once cool, carefully remove the skin of the eggplants to reveal their flesh.
4. Add the flesh to a food processor with the garlic, smoked paprika, lemon juice and tahini.
5. Blend the mixture until it is creamy, then season well with salt and pepper.
For the herb oil 
1. Finely chop  parsley and coriander and place them in a bowl. Finely slice a red chilli, and add to the bowl with the herbs.
2. Add extra virgin olive oil and the lemon juice and zest. Season well with salt and pepper, and set aside in the refrigerator.
To assemble
1. Serve this dish by dolloping a generous pool of baba ganoush onto a wooden board or serving dish and placing the golden cauliflower proudly on top.
2. Then scatter over the toasted seeds and serve the herb oil in a bowl on the side for guests to drizzle over as they please.
• Recipe courtesy of Dirt Cookbook, $20. Pre-order a copy for delivery mid-December at Gloria-books.com
Share this:
More Food & Drink / Recipes