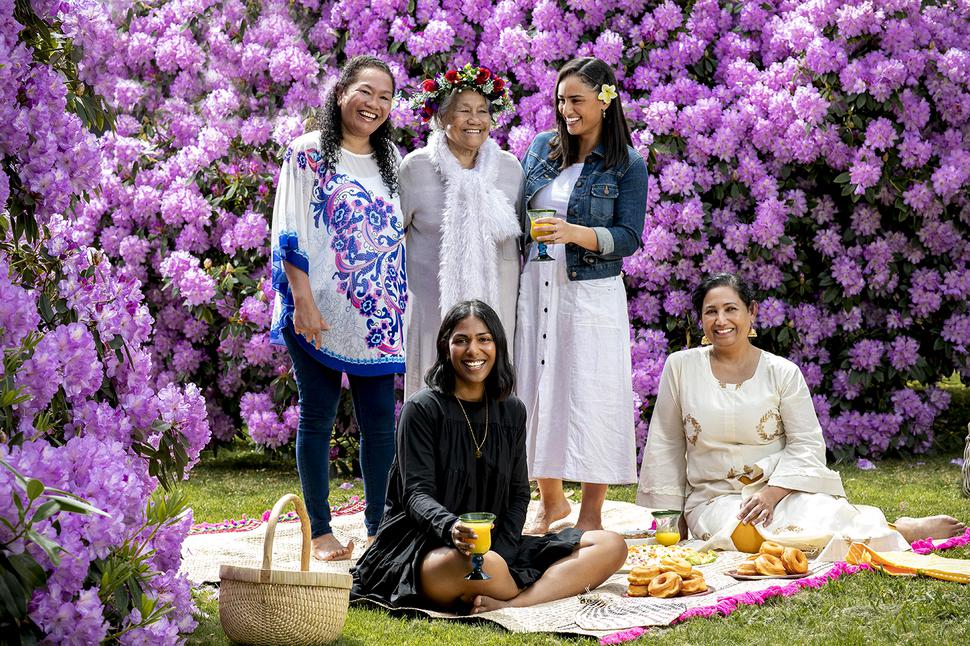 Doe Donuts Owners Grace Tauber & Shenine Dube's Homage To A Time-Honoured Family Recipe
The self-taught duo pour island flavours into a treat that swings from sweet to savoury
Sunday Jan. 3, 2021
If you are lucky enough to have attended a Cook Islands wedding or birthday party, you might be familiar with the festive spread of dishes that colour the overflowing tables.
There are squares of deep yellow baked cassava, raw fish marinated in coconut cream, and island potato salad, stained pink with beetroot and presented on a bed of frilly lettuce like a beautiful cake.
But dishes such as this — maniota, ika mata and minus — are largely absent from the mainstream foodscape, something the owners of Doe Donuts, Grace Tauber and Shenine Dube, are brightly optimistic about changing.
The high school friends founded their business on their love of island food — Grace's mum is from the Cook Islands and Shenine's parents are Fijian-Indian — specifically, Cook Islands doughnuts, a staple of their upbringing and a recipe learned from Grace's mum.
Denser and more durable than your average doughnut, they walk the line between sweet and savoury, equally enjoyable dunked in a cup of tea or a bowl of seafood chowder.
Tweaking the original recipe over the years to be more receptive to different flavours, their island-style doughnuts are filled and glazed with luscious curds, fresh fruit compotes and dreamy custards that are technically perfect; you would never know their makers are self-taught.
READ: Chef Monique Fiso's New Book Is A Love Letter To Maori Flavours
"It's a cultural thing," says Shenine. "In Island and Indian families, you come together and all the women cook. It's just something you do. We learned from our mums and they were self-taught too."
Island influences are always present in their doughnut flavours, and they have been known to sell Polynesian desserts such as coconut rolls and pineapple pie.
Following requests from friends and followers about where to get island food, they recently introduced what Grace calls "love on a plate", a selection of dishes made the traditional way and offered once a month on a pre-order basis.
"We just love island food," says Grace. "We are so excited to show people how much work goes into it and just how good it is. When promoting these plates, I've also been trying to educate people on how it's made, what it might taste like and the consistency."
READ: Nanam Restaurant's Jessabel Granada On The Filipino Food That Shaped Her
Grace says preparing a feast like this takes a few days and a huge part of the cooking process is spending time with family.
Almost all the dishes are either cooked or marinated in coconut cream and many have a sweet element such as the banana poke, a dark-purple pudding-like dish made from overripe bananas which are boiled then baked with tapioca.
When served alongside barbecued fresh fish, beef chop suey heavily fragranced with ginger, and a basket of golden Raro doughnuts, it's a unique island marriage of sweet, savoury and salty flavours that blend together joyfully in one sunny plate of food.
It's this carefree feeling, of good times spent with family, that the duo hopes they convey through sharing their cuisine.
"It's such feel-good food," says Shenine. "It also comes with a lot of emotion because there is so much effort that goes into it and you are eating it with the people you love."
And at the moment, that sounds like the next best thing to a holiday in the islands.
– Originally published in Viva Magazine – Volume Two
Share this: