Granola Tarts Recipe
Try this delicious recipe with coconut yoghurt from Eleanor Ozich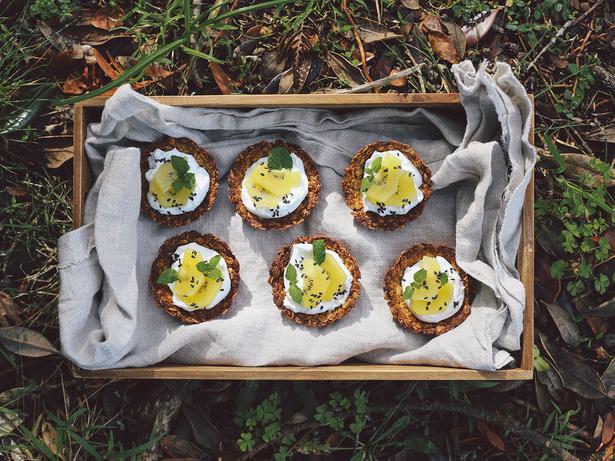 Thursday Aug. 11, 2016
Oat, almond and maple tarts, baked until crisp, then filled with gently whipped, tart coconut yoghurt. These little vegan delights are somewhat lighter than most, the slices of kiwifruit and mint add a certain vibrancy and freshness to each bite. Easily made and quick to bake, you could top them with most varieties of seasonal fruit.
LITTLE GRANOLA TARTS RECIPE WITH COCONUT YOGHURT
Makes 9  
For the tart cases:
2 Tbsp chia seeds
6 Tbsp water
¼ cup coconut oil, melted
4 Tbsp pure maple syrup or honey
½ cup ground almonds
1 ½ cups wholegrain oats
For the filling:
1 ½ cups coconut yoghurt, or greek yoghurt
2 kiwifruit, peeled and finely sliced
A few sprigs of fresh mint leaves
Black sesame seeds for sprinkling
1. Pre-heat the oven to 180 C.
2. Combine the chia seeds, water, coconut oil and honey in a bowl, mix to combine. Leave to sit for 5 minutes or so, you will notice the mixture will start to become thick and gluggy.  Add the remaining ingredients and mix until the mixture begins to hold together.
3. Divide the mixture evenly between 9 greased muffin tins, and press in gently to form little tart cases.
4. Bake in the oven for 15 minutes or until lightly golden all over.
5. Allow to cool in the tins, then gently turn out on to a cooling rack.
6. Once cooled, fill each tart case with yoghurt, then top with the kiwifruit, sesame seeds and mint.
Share this:
More Food & Drink / Recipes