Great gifts for wine lovers
A collector, an entertainer, a dog lover. Pour a little thought into gifting wine, says Jo Burzynska.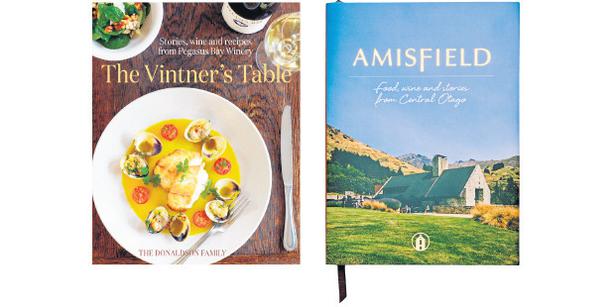 Friday Dec. 12, 2014
If you're looking for presents for a wine lover this Christmas, a random bottle plucked in haste from a supermarket shelf doesn't really communicate that great care has been taken in its selection. Connect your gift with another of their interests, however, and it should make a winning combination.
Here are some ideas:
FOR THE FOODIE
The Vintner's Table, Amisfield
Two great winery cookbooks have been released that should sate the appetite of the gastronomically inclined. Trailblazing Waipara winery Pegasus Bay is behind The Vintner's Table (Random House, $65), an attractive tome that tells the story of the establishment of the winery and its award-winning restaurant, with the second half devoted to seasonally arranged recipes from the top chefs that have passed through its kitchens.
Head further south and Amisfield: Food, Wine and Stories from Central Otago (Random House, $59.99) follows a similar format. It starts off with a brief history of the winery and its wines before moving on to a substantial selection of recipes from its applauded bistro.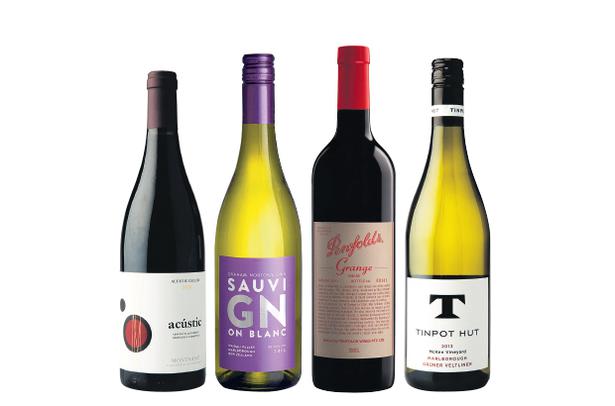 Acustic Tinto, Montsant, Spain 2011; Graham Norton's Own Marlborough Sauvignon Blanc 2014; Penfolds Grange 2010; Tinpot Hut McKee Vineyard Marlborough Gruner Veltliner 2013.
FOR THE MUSIC LOVER
Acustic Tinto, Montsant, Spain 2011
Acustic Celler in Spain's Montsant region makes fine and stylishly packaged wines, which take their cues from music. Winemaker Albert Jane interprets the word Acustic as meaning "unplugged", comparing the purity of an acoustic concert with his winemaking philosophy to make wines that are the purest expression of their terroir. This harmonious blend of garnacha and carinyena possesses fine supple tannins and black cherry fruit infused with hints of smoke, stone, liquorice and cocoa. $39, available from The Village Winery, Accent on Wine, Hamilton Wine Company, stvincentscave.com.
FOR THE CELEBRITY SPOTTER
Graham Norton's Own Marlborough Sauvignon Blanc 2014
It's no secret British talk show host Graham Norton is partial to a drop of Marlborough sauvignon blanc, so much so that he recently bought a stake in the New Zealand Invivo label. However, he's now taken things even further and made his own wine.
Grapes from the 2014 vintage were flown 20,000km to Norton's London studios, where he rolled up his trouser legs and personally trod a parcel of the grapes himself. The resulting wine is fresh and fruity with succulent tropical fruit laced with green herb. $19.99 from Liquor King, New World, Advintage and thegoodwine.co.nz.
FOR THE COLLECTOR
Penfolds Grange 2010
Grange is one of Australia's most popular wines, with this year marking its 60th consecutive release from the much-celebrated 2010 vintage. Is this the best Grange ever? Very possibly. It's certainly the finest example I've tried as a young wine, with immense concentration to its palate of brooding black plum and berry fruit infused with notes of fragrant spice, cocoa and liquorice supported by a powerful frame of bright acid and firm but fine tannins. $835 from leading fine wine retailers.
FOR THE ADVENTUROUS
Tinpot Hut McKee Vineyard Marlborough Gruner Veltliner 2013
If you've got someone with a sense of vinous adventure on your Christmas present list, go for a Gruner Veltliner, a new and still relatively rare white variety here in New Zealand that's making some increasingly impressive wines. This one from Tinpot Hut is a fine example, with its white peach fruit, juicy citrus and hints of mineral and white pepper; $24.99 from tinpothut.co.nz.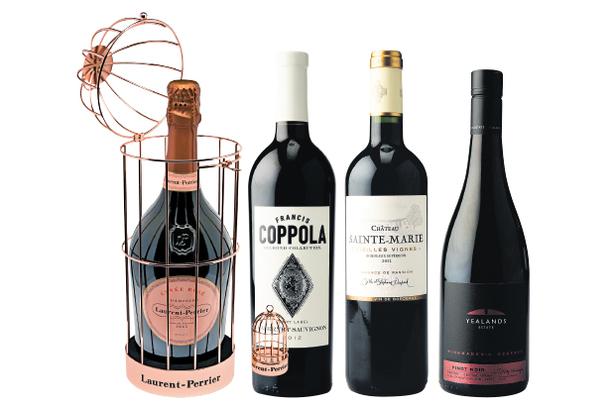 FOR THE AESTHETE
Champagne Laurent-Perrier Rosé NV Birdcage Edition
This has to be the most beautifully presented wine available this Christmas, a bottle of Laurent-Perrier's classic rosé in an award-winning limited edition carrying case based on a traditional birdcage. This comes complete with a matching stopper to preserve the Champagne once opened. There's also substance behind the style, as the contents of the bottle is equally beguiling: an elegant rosé Champagne with notes of red fruits, citrus, marzipan and subtle savoury undercurrent.
$229 from Caros, Farro Fresh, Fine Wine Delivery Company, Glengarry Grey Lynn and Victoria Park, selected Liquor King stores, Liquorland Howick, New World Te Rapa, Point Wines, Smith & Caugheys and Wine and More.
FOR THE FILM BUFF
Francis Coppola Diamond Collection California Cabernet Sauvignon 2012
Wine has made a guest appearance in a number of the films of top Hollywood director Francis Ford Coppola, but it plays the starring role in the winery he owns in California. Unlike many other celebrity wine interests, Coppola's is a serious enterprise, something that's supported by the major awards its wines have achieved. This is an impressive cabernet from his collection, which is rich, ripe and velvety with dark berry fruit and hints of spice. The perfect gift for a godfather or anyone who appreciates a dramatic and powerful red. $39.99 from Caros and Farro Fresh.
FOR THE FRANCOPHILE
Chateau Sainte-Marie Vieilles Vignes Bordeaux Superieur 2012
Looking for something with a little je ne sais quoi at an affordable price? This elegant Bordeaux, with its plush blackcurrant and blackberry fruit, notes of freshly ground coffee and savoury undertones, should be parfait! $25 from leading independent wine stores or contact Bennett & Deller on (09) 378 9463 for stockists.
FOR THE ENVIRONMENTALLY AWARE
Yealands Estate Winemakers Reserve Gibbston Valley Pinot Noir 2013
Yealands Estate has some of the strongest environmental credentials you can find in a wine business or otherwise. It was the world's first winery to be certified Carbonzero from inception and was recently named the overall winner at the 2014 New Zealand National Sustainable Business Network Awards. It makes good wines, too, such as this svelte and silky Central Otago pinot noir with its red berry and cherry fruit, which recently won a gold medal in the International Wine and Spirit Competition. $39.99 from Glengarry and yealands.co.nz.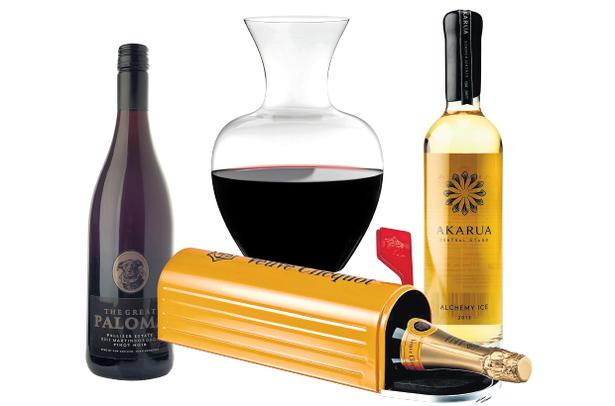 FOR THE DOG LOVER
Palliser Estate The Great Paloma Martinborough Pinot Noir 2011
Every vintage of the top wine made by Palliser Estate is named not after a vineyard or a person, but a dog. The Great Paloma is the sixth release in its 'Great Dog' range, and is an elegant and refined pinot noir from the Martinborough estate's Pencarrow vineyard, with a silky palate of dark fruit, spice and hint of florals. It's just a pup, so this is one for the cellar. $108 from palliser.co.nz.
FOR THE ENTERTAINER
Riedel Apple Decanter
A fine crystal decanter is a must for those who enjoy entertaining with wine. Described as the "little black dress of the dinner table", the Austrian crystal-maker Riedel's apple decanter is a stylish and classic wine accessory. $69 from Glengarry.
FOR THE FUN-LOVING FIZZ FAN
Champagne Veuve Clicquot Yellow Label NV Mailbox
Every year many of the big Champagne houses come out with imaginative gift packaging and Veuve Clicquot has produced one of this year's favourites. A bottle of its classic yellow label Champagne is encased in a funky metal mailbox that boasts a moveable little red flag to announce that its contents have arrived... or possibly departed, as the contents of its bottle is an elegant light and fine Champagne with notes of crisp green apple and hint of toasted brioche. $79.99 from Glengarry, Caros, The Good Wine Company and other leading fine wine retailers.
FOR YOUR SWEETIE
Akarua Alchemy Ice 2013
Akarua has produced a delicious and rare dessert wine to commemorate the 100th anniversary of finding gold in Central Otago. This "ice" wine is made by concentrating the sugar and flavours in riesling grapes by freezing them, then removing the excess water and fermenting the rich juice that remains. The result is wonderfully luscious wine with pure and rich nectarine fruit, notes of honey and a fresh lemony finish. Packed in an enamelled, hand-waxed 375ml bottle, it looks almost as good as it tastes. $49 from Glengarry.
Share this:
More Food & Drink / Wine & Drink