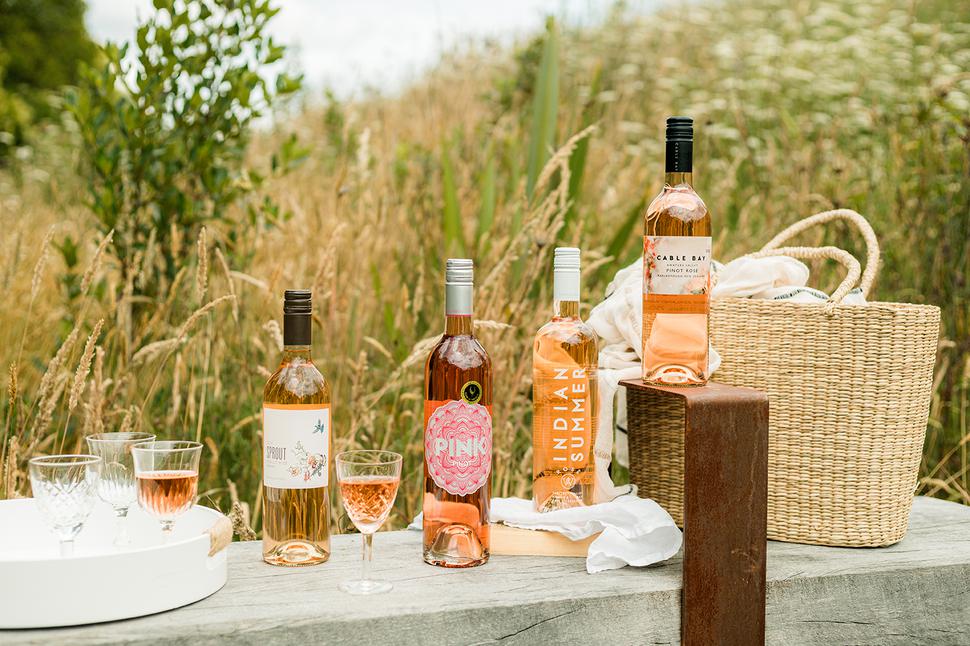 10 Of The Best Rosés To Try This Rosé Day
Think pink with these divine wines for New Zealand's sixth national Rosé Day
Friday Feb. 5, 2021
New Zealand is celebrating its sixth national Rosé Day on February 5. This collaborative initiative between local rosé producers is encouraging wine drinkers to have a rosé picnic over Waitangi weekend. It's an opportunity to both partake in some of the country's impressive examples, and support local wineries in these challenging times.
Rosé is on trend
Global rosé consumption has almost doubled in recent years, now accounting for over 10 per cent of all wines drunk. It's become less seasonal and less female-skewed, given the rise of the "brosé phenomenon" that's seen more men drinking it.
READ: What You Need To Know About Natural Wine & Why You Should Try It
In New Zealand, it's one of the fastest-growing categories in the domestic market and is our fourth-largest wine export category, overtaking chardonnay last year.
There's a style to suit most tastes
Local rosés come in many guises, not simply still and sparkling. Most are now on the drier side but some have a touch of sweetness that's often so well balanced by fresh and ripe fruity characters it's hard to pick.
Our rosés range from light and crisp to rich and savoury food-friendly expressions. Most are made using black grape varieties — that remain with their skins for a short time to extract a lighter colour — but the inclusion of pink-tinged pinot gris is adding to the diversity.
Some rosés are closer to white wines in style, while others are akin to light red. There are fun and easy drinking examples, and those that are complex and textural, some of which have been matured in oak.
Local rosé has never been better
In the past, many local rosés were effectively a by-product of red winemaking, using the saignee method to concentrate a red wine by drawing off some of its juice at the start of the process, that then becomes a rosé.
READ: Find Brilliant Bites At Clay Wine Bar
While not essentially making lower quality examples, the fact that more winemakers are now making rosés from the outset gives them greater ability to fine-tune the final product through growing grapes specifically to make a rosé style. Add to that a great vintage in many regions in 2020, and the stars have aligned for some outstanding examples from Auckland to Otago.
10 GREAT ROSÉS TO TRY
1. The Elder Martinborough Rosé 2020 ($31)
A sophisticated, silken-textured rosé made from The Elder's premium pinot noir fruit, with some lovely concentration to its palate of delicate raspberry and watermelon, infused with hints of white flowers and spice. From Martinboroughwinemerchants.com; Thewinebank.nz; Regionalwines.co.nz
2. Te Whare Ra Single Vineyard Marlborough Rosé 2020 ($23-28)
With this stellar organic example from the 2020 vintage, rosé has joined the main line-up of wines at Te Whare Ra. Deftly balanced, it combines vivid and fresh strawberries, raspberries and redcurrants, with a touch of florals and a dry, savoury edge. From Glengarry; LK Ponsonby; Fine Wine Delivery Company; Twrwines.co.nz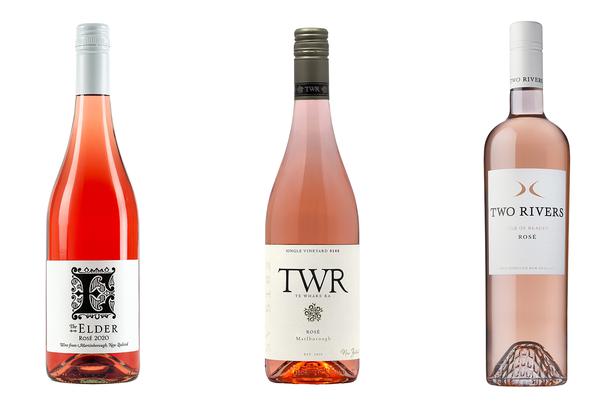 3. Two Rivers Isle of Beauty Marlborough Rosé 2020 ($24)
A crisp, elegant and delicately fruited rosé, in which notes of strawberry mousse and berry compote are underpinned by a vibrant grapefruit freshness and a chalky minerality. From Fine Wine Delivery Company; Waiheke Wine Centre; Fine O Wine Milford and Grey Lynn
4. Aurum Organic Central Otago Pinot Gris Rosé 2020 ($28)
A wonderfully fragrant and rare 100 per cent pinot gris rosé. Notes of white flower, baking spice and herb thread a fresh palate that counterpoises fleshy nectarine with a subtle savoury undercurrent. From Aurumwines.com; Dnfinewine.com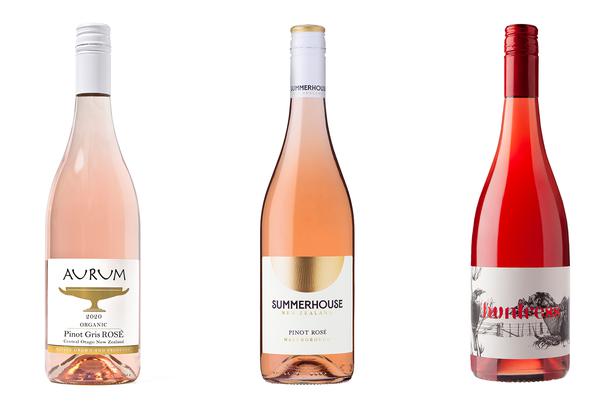 5. Summerhouse Marlborough Pinot Rosé 2020 ($19)
Summer in a glass is delivered by Summerhouse's sweetly fruited and joyful rosé. A silky textured blend of pinots noir and gris, it's bursting with mouth-filling and mouth-watering berries and gala melon. From New World; Blackmarket.co.nz
6. Huntress Waikura Wairarapa Rosé 2019 ($28)
Akin to a light red in terms of colour, weight and intensity, this is a serious textural rosé with bright berry and tangy citrus flavours, and gentle, toasty spice from a potion fermented in oak. From Thewinebank.nz; Martinboroughwinemerchants.com
7. Cliff Edge New Beginnings Awhitu Rosé 2020 ($26)
Hailing from a tiny cliff-top vineyard at the end of Auckland's ?whitu Peninsula, this blend of merlot and cabernet franc is a fuller-bodied, savoury style, in which restrained red fruits marry with hints of white flowers, herbs and a spicy character from maturation in oak. From Cliffedgewines.co.nz/shop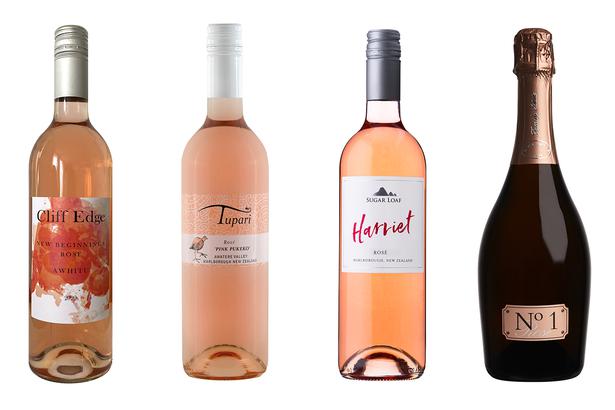 8. Tupari Pink Pukeko Awatere Valley Marlborough Rosé 2020 ($22)
A blend of pinot gris with a touch of pinot noir, which in this dry and juicy rosé delivers attractive red berry notes from the noir and, from the gris, apple and pear, along with hints of cinnamon and a succulent texture. From Glengarry Wines; Tupari.co.nz
9. Sugar Loaf Harriet Marlborough Rosé 2020 ($23)
This is the first rosé made from Sugar Loaf's own grapes. Juicy and creamy textured, with a classic strawberries-and-cream rosé character and some good depth, it's an impressive debut. From First Glass; Sugarloafwines.co.nz
10. No1 Family Estate Rosé Marlborough Methode Traditionelle NV ($47)
A refined sparkling pinot noir rosé by 12th-generation Champagne maker Daniel Le Brun, with subtle cherry, a vibrant freshness and savoury, yeasty complexity. From Glengarry; No1familyestate.co.nz
Share this: