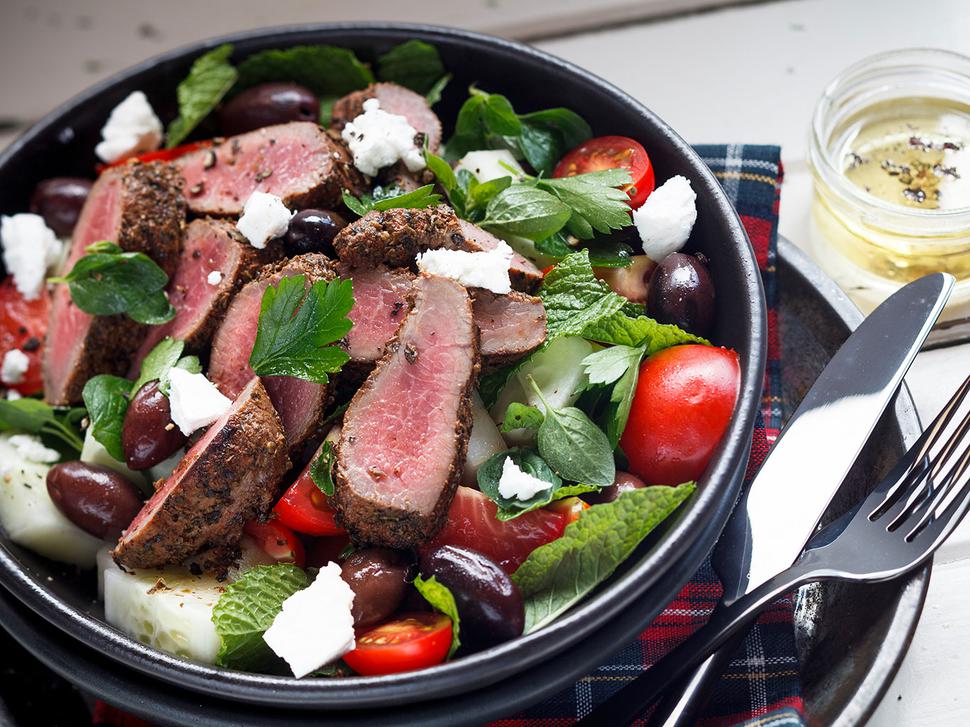 Greek Salad Recipe with Lamb
Accompany this salad with a fresh baguette for a quick meal or picnic
Thursday March 17, 2016
Although it is autumn, the weather is still mild, in fact almost perfect — the sea warm for swimming, the evenings cooler for sleeping. It's the perfect time to combine barbecued lamb with a fresh, Greek-style salad. Accompany this with a fresh baguette for a quick meal or picnic.

GREEK SALAD RECIPE WITH LAMB
Marinade
• 1 Tbsp dried oregano
• 1 Tbsp dried basil
• 1 tsp smoked paprika
• Salt and pepper
• ¼ cup red wine
• 1 Tbsp balsamic vinegar
• Dash of oil for cooking
• 400g lamb loin or steaks
Salad
• ½ cucumber, cut into chunks
• 6 tomatoes, cut chunky
• 100g feta, crumbed
• ½ cup whole black olives
• 1 cup mixed fresh Italian parsley, chives and basil
• Olive oil and balsamic vinegar, to drizzle
1. Into a small bowl combine the oregano, basil, paprika, salt, pepper, red wine and balsamic. Pour over and rub into the lamb. Leave to sit for 20 minutes.
2. In a large bowl combine the cucumber, tomatoes, feta, olives and herbs. Season with salt and pepper and place on to a platter.
3. Heat a little oil in a frying pan to a medium heat. Add the lamb cooking for 4 minutes each side or until done to your liking. Remove and rest for 10 minutes.
4. Slice the lamb thinly and scatter over the salad. Drizzle with olive oil and balsamic.
Share this: