Why You Should Revisit Greek Wine
Greek wine is on the rise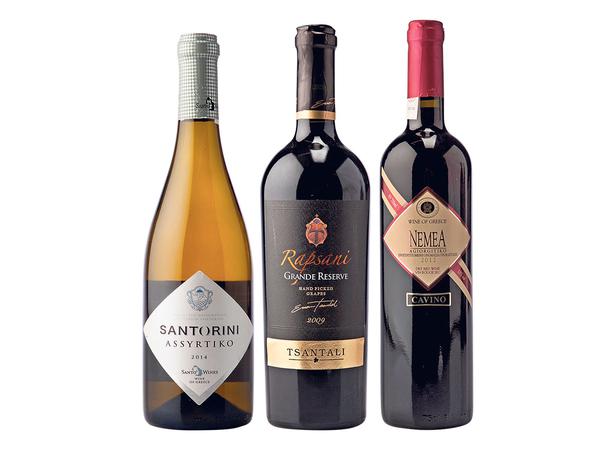 Sunday Aug. 28, 2016
Greek wine has experienced many a drama: from playing a valued part in lubricating ancient philosophical debate to having its image debased by a legacy of rustic retsina. More recently it's had to face fallout from the country's financial crisis. But, rather than resulting in catastrophe, this most recent challenge sees its wines well placed for a positive denouement, even on our distant wine stage.
There have been many twists and turns in the plot of Greek wine in a history that spans thousands of years. Although embedded in the culture and traditions of a nation that once worshipped Dionysius, in modern times Greek wines have experienced mixed fortunes.
I'm not going back to antiquity, but will set the scene in the 70s — a time when Greece became associated as the source of high-volume Demestica and often-rank retsinas, the country's pungent pine-resin flavoured speciality.
Enter the 80s and things began to improve in an era of investment that ushered in the modernisation of the Greek wine industry and the country's first wave of trained winemakers. Since then quality has improved exponentially. The co-operatives have cleaned up their acts and quality-focused boutique producers have proliferated.
One of the intriguing elements of Greek wine that now shines through with better winemaking is the interest of its 300-plus indigenous grape varieties. Most are never seen elsewhere and their recent revival has even seen grapes brought back from the verge of extinction.
Greek wine's diversity is further deepened by the country's vast geographical spread. This sees grapes grown in the mountainous Macedonia region, with its more Balkan climate, down to the southern windswept volcanic island of Santorini.
Traditionally, the wine-loving Greeks have imbibed a high percentage of their home production. However, more of this — from the complex to the quaffable — has been heading overseas, with exports tipped to rise further off the back of the economic crisis.
Although the crisis did mean initial difficulties — such as not having the cash to import winemaking equipment — and hit the domestic market hard, it's forced the country's wine companies to become more proactive in getting their wines out into the wider world. This is something that some commentators suggest, rather than spelling disaster, could be the best thing that ever happened to the Greek wine industry.
Here in our small faraway market with few Greek expats, we haven't historically seen many Greek wines. However, that could change in the current climate. And there's already been a recent influx, albeit through the motivation of Albany wine merchant, David Prescott of Wine & More, rather than Greeks targeting New Zealand.
"After importing a wide range of Greek products, I was repeatedly asked from customers why don't I expand with importing wines also," explains Prescott, who says he was also intrigued by the hundreds of years of history behind the local varieties and wineries. After a somewhat shaky start with whites, he's had more success in wooing Kiwis with Greek reds, although he has some educating to do.
"The general perception of Greek wines is not that great, as the public relates to some cheap wines they have tried in Greece on their vacations, especially retsina," he admits. "However, a smaller, more wine-educated percentage, is very keen on Greek wines from specific geographical areas that, in most cases, they have visited on vacation."
"Generally the feedback has been from very good to extremely good," he adds. "At first it was mainly retsina people asked for, but after doing a few tastings, all of the wines have been well received, especially the big aged reds."
I've been lucky to visit Greece's wine regions and taste enough examples on my travels to join the chorus of critics that assert Greece is now making some seriously good stuff. And as the country enters its next act and more of its wines arrive on our shores, I hope it gains an audience of Kiwis as appreciative as I am of its fascinating vinous productions.
Santo Wines Santorini Assyrtiko 2014 $27.99
The Assyrtiko variety, which keeps its beguiling freshness even in the warm climes of Santorini, is Greece's flagship white. This one, from the island's largest co-op, offers an appealing combination of palate weight with notes of crisp citrus, hints of nut and an intense minerally core.
Tsantali Rapsani Grande Reserve 2009 $39.99
From the foothills of mount Olympus comes this full-bodied and brooding blend of Xinomavro, Krassato and Stavroto, with bold, ripe blackberry and black cherry fruit, notes of peppery spice, black olive and a savoury hint structured around a solid spine of mellowing tannins.
Cavino Nemea Agiorgitiko 2012 $16.99
Made from the fragrant Agiorgitiko grape in the Nemea region of the Peloponnese peninsula, this soft juicy red with its bright raspberry and strawberry coulis fruit represents some of the great value to be found in Greek wine.
Share this:
More Food & Drink / Wine & Drink