Green Slaw Recipe
The perfect green slaw for the coming summer months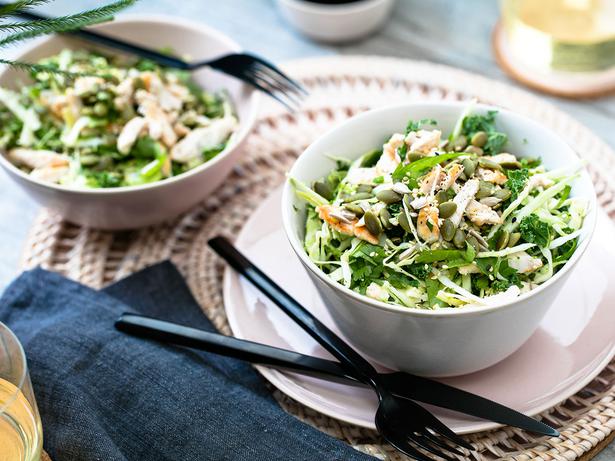 Friday Oct. 14, 2016
A great crunchy green slaw is hard to beat. Perfect it now and it will carry you through the summer months. Scrummy for lunch at work, it will also help to feed a crowd at a barbecue or weekend lunch. If you feel inspired, add extra vegetables, herbs or chilli to spice it up.
GREEN SLAW
Serves 4
½ green cabbage
1 cup shredded kale
½ head broccoli, chopped fine
2 spring onions, chopped
2 cups fresh herbs, roughly chopped
½ cup toasted pumpkin seeds
¼ cup toasted sunflower seeds
400g cooked chicken, shredded
Asian Dressing
2 Tbsp white vinegar
1 cloves garlic, crushed
2 Tbsp soy sauce
1 Tbsp grated ginger
1 tsp sesame oil
¼ cup oil
1. Place the cabbage, kale, broccoli, spring onion, herbs, seeds and chicken in a large bowl.
2. To make the dressing, combine the vinegar, garlic, soy sauce, ginger, sesame oil and oil in a small jar and shake. Pour over the salad just before serving. Season with salt and pepper.
Share this:
More Food & Drink / Recipes